Adding the Basic Left Hand
Lesson Two, Snake Dance syncopation build-up,
Musicarta Beat and Rhythm workbook.
The D minor Basic Music-making Position
Here is the performance video for this lesson.

Practice suggestions

To add the left hand, we find what Musicarta calls a 'basic music-making position'.
Both hands cover five white keys – one key per finger.

There are two unused white keys between the thumbs.

The lowest key in each hand is the 'name note' of the position – here, the D in 'D minor basic music-making position'.

All the left hand does is play two notes together (that we call 'a fifth') four times per line. Even if you don't read music (in your workbook), you can see just by looking at it the two important-looking notes underneath the melody, and you can easily see how they represent the sound you're hearing.
Playing by numbers
Providing you've got the hand position right, you can play this version by (fingering) numbers alone.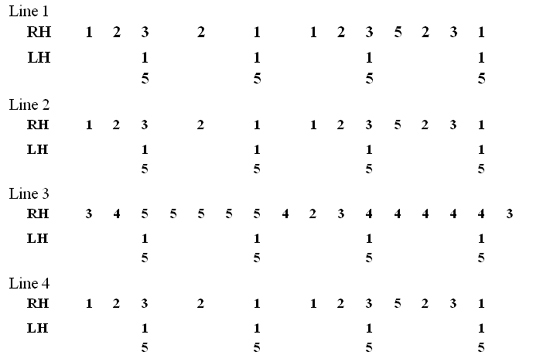 Hopefully, you can hear the new version as you look at this fingering 'script'.
This is the 'theme' of all the subsequent variations, so be sure you can play it well before going on.
Intervals
A theory inerlude - intervals.
The left hand plays what is called 'a fifth'. A fifth is an 'interval'.
An interval is a pair of notes, played either together or one after the other.
The number (fifth, third, etc.) describes how far apart (up or down) they are – how big a leap it is.
All the note letter-names are counted in an interval – there is no 'zero'. D to A is D, E, F, G, A – five letters, so 'a fifth'.
---
Thanks for studying with Musicarta
- Come back soon! -