Breaking Up the Left Hand (2)

Lesson Four, Snake Dance syncopation build-up,
Musicarta Beat and Rhythm workbook.

In this lesson, you fill the gaps in the left hand pattern to give a continuous bottom-top-bottom-top accompaniment.
Read the music in the workbook as you watch the performance video.
The only part that's new is what happens between the phrases.
The teaching video will walk you the following practice tips.
Practice tips

The only part that's new is what happens between the phrases. Here's what happened before.
Here's what you do now.
The only new hands-together pattern is this.

The right hand phrase run-ups start together with left hand little finger five (LH5) – a B-for-bottom note.
Progress to a continuous left hand and practice coming in with the right hand at the right place.
Here's an exercise for Line 3.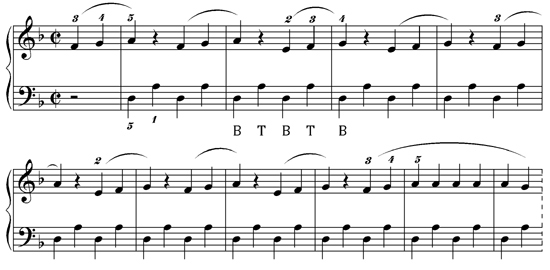 Just keep 'working it' in sections like this. Treat putting the four lines together as a separate thing.
FREE VIDEO
KEYBOARD
LESSONS ON
SKILLSHARE

Try two Musicarta Pyramids Variations video lessons on Skillshare absolutely free. Use these links to Lesson One and Lesson Two and watch your keyboards skills grow – and get three months' Skillshare Premium membership for less than a dollar!
Thanks for visiting MUSICARTA! Come again soon!