Snake Dance Variations – Variation Four
Musicarta Beat and Rhythm, Snake Dance series

The first part of Variation Four has left hand crotchet-minim-crotchet block fifths – the same rhythm as the final, build-up Lesson Six, version.
Here is the first line tapping pattern.

In the second part, the left hand little finger is held down over the whole line while the left hand thumb 'flaps' on the off-beat.
Here's the MS to practice – hands uncrossed.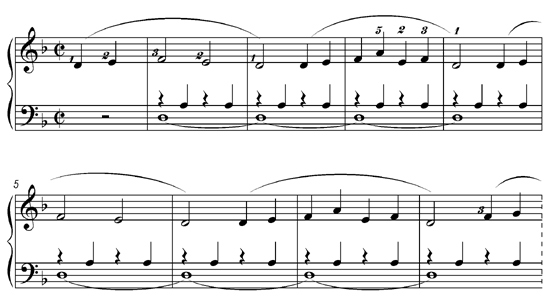 Notice generally how the performer is giving himself an extra bar or two to get to the right-hand-under position. Let yourself take free executive decisions like this, like same as with your endings.
Revision Round-up

Give yourself a speed revision test or prepare for improvisation or performance by playing along with this Variations Round-up video.
FREE VIDEO
KEYBOARD
LESSONS ON
SKILLSHARE

Try two Musicarta Pyramids Variations video lessons on Skillshare absolutely free. Use these links to Lesson One and Lesson Two and watch your keyboards skills grow – and get three months' Skillshare Premium membership for less than a dollar!
Thanks for visiting MUSICARTA! Come again soon!