Musicarta EASY PIANO Style
A Pair of Chords


Lesson One



In the this first Musicarta Easy Piano Style module, you learn the basics of a simple keyboard texture which will, in the end, show you you to 'just sit down and play'.
Here's the module performance.

This little piece uses the same pattern in two next-door places on the keyboard. We call those, C and D minor (Dm).

The pattern in C

A bit rusty on naming the piano keys?
Use this page to brush up, and the other
flashcards for reading music (optional).

Here is a teaching video for the build-up of the pattern in C.

Section lesson notes

You can refer to these lesson notes as you work through the teaching video (above).









Put your left thumb (1) on middle C;

Put your little finger (5) on the next C down;
Your second finger (2) will very likely be right over a note G (check against the photo).
Then, for your keyboard version of the guitarist's strumming, you rock your left hand, playing bottom-middle-top-middle notes over and over.
(To match up with the music, your thumb will need to be on 'middle C' on your keyboard.)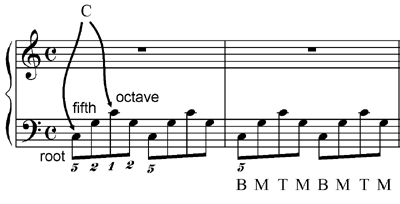 But you'll notice straight away that the sound is rather 'bald' – it's lacking the sweet chord tone – 'the third' – which the right hand will play.
| | |
| --- | --- |
| | This illustration shows the right hand adding the third. Notice the semitone counting on the keyboard illustration, making sure you find exactly the right note – the third is different in major and minor chords. |
Here are the four stages of the pattern build-up.

The pattern in D minor
Next, you repeat the process one key to the right  - "in D minor".

---
Thanks for studying with Musicarta
- Come back soon! -