Patreon MUSICARTA Premium
Scale-tone Practice Patterns

Yes, you SHOULD practice your scales!
Popular-styles musicians who have got anywhere in their profession will all agree that knowing your scales means knowing your keys - an essential part of being being able to play whatever is put up in front of you.
Knowing keys also means your hands know the feel of that particular combination of black and white keys on the keyboard - and your inner ear knows what they will sound like.
Plus, you DO want to be able to run up and down that keyboard quickly and reliably, in any key. It's an essential part of 'playing keyboards'!

Scale-tone practice patterns

Scale-tone practice patterns (STPPs) are patterns you can soon understand, which let you get right to the business of 'practicing the piano'. With STPPs, you're diving straight into being able to play your instrument, pure and simple.
Musicarta's scale-tone practice patterns are marked up so you can transpose them with minimal effort and practice playing the piano, in any key, the minute you sit down.
Musicarta's scale-tone practice patterns are ideal for accustoming your hands to the more advanced keys, and teaching you the improvisation fingering tricks which will mean you always have a finger for that next note, whatever it is.
Scale-tone practice patterns in C

There is a demonstration video after the first seven patterns. The numbering is scale-tones, not fingering!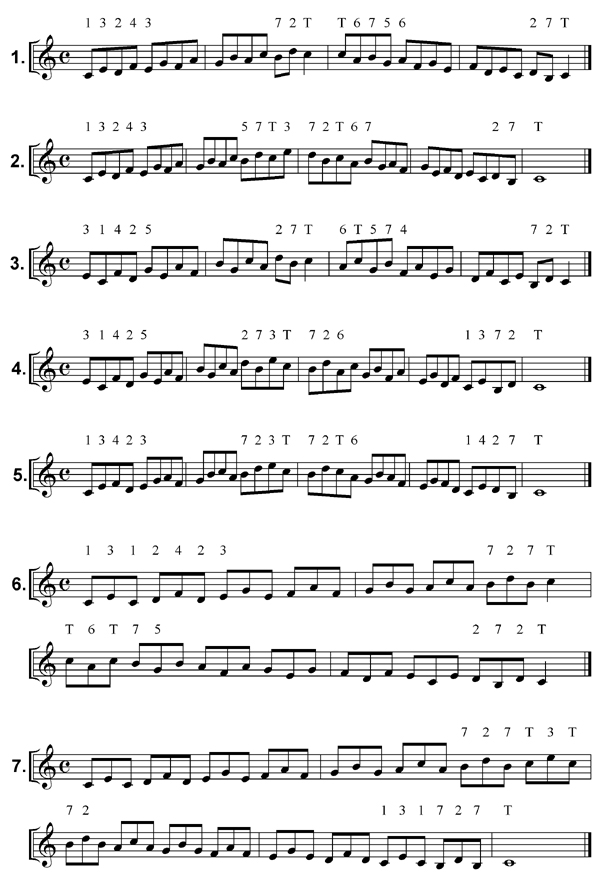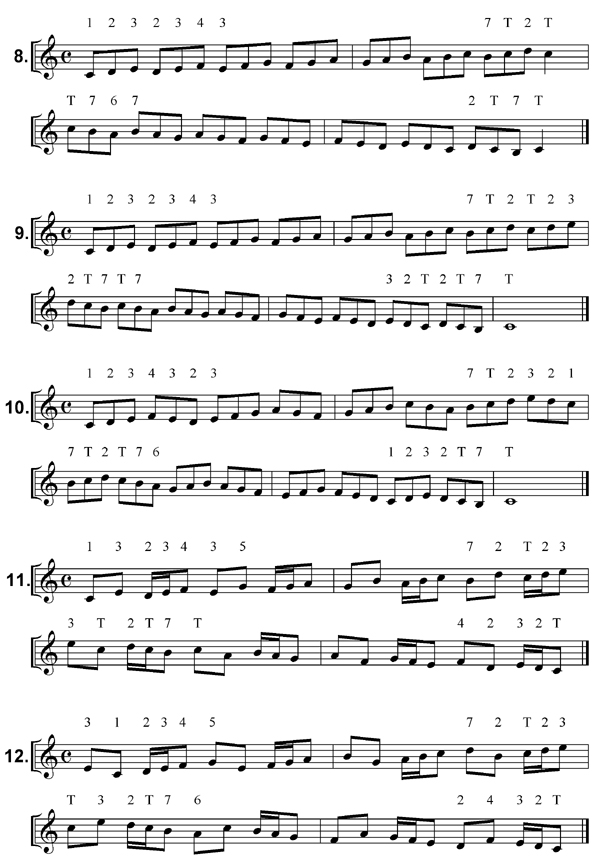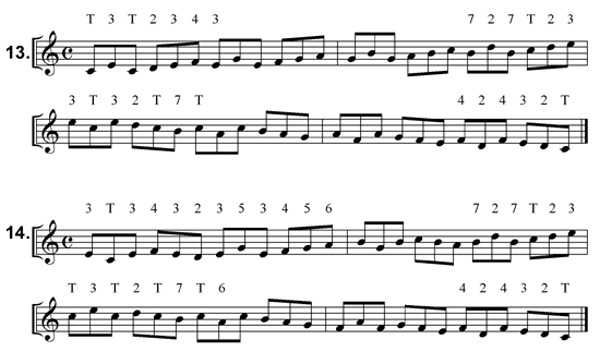 For simplicity, the STTPs are written for right hand only. You can play with two hands (left hand an octave down) if you like.

Transpose the patterns

Transposing the patterns will help you learn the look and feel of the sharp and flat keys.
It will also help your playing-by-ear. 
You transpose using the scale-tone mark-up above the notes, which numbers the scale tones from T-for-tonic (=1) up through 2, 3, 4 etc to T again.
Watch the performance in C as you read the music until you 'see' the pattern and how the scale-tone mark-up tells you what you need to know.

Musicarta has transposed the patterns for you into two moderately easy keys - B flat (two flats) and A (three sharps). These will give you a good sample of keyboard feel and representative fingering challenges.
No written-out music (MS) is provided for the patterns in these keys. This would rob the exercise of most of its value – which is, to put YOU in charge!

Here are the videos, starting with B flat.
Patterns 1 to 7 in B flat
Patterns 8 to 14 in B flat
Patterns 1 to 7 in D
Patterns 8 to 14 in D
Going on from here

You can develop little 'suites' of developments and variations on the scale-tone practice patterns.

Your first step would be to play the STPPs in sixths and tenths.
Watch out for forthcoming sixths and tenths versions of the C, b flat and A STPPs. (Get the site RSS feed fo notification, or 'follow' the Mister Musicarta YouTube and Face Book channels.

For and advanced example, check out STPP in E 15-07-15.
---