PIANO MUSIC LESSONS
What would you like to play next?
This page showcases Musicarta's free piano music lessons online. The audio files below are the performances that the linked lessons teach. The files and lessons are grouped in series – there is a short explanation at the top of each group with a link to the series home page, which acts as a combined introduction and table of contents.
Click up to the Musicarta.com home page for more info about our piano music lessons online, or listen to the audio tracks below, see what strikes a chord and get started right away!
Musicarta Key Chords Vol. 1
The third Musicarta keyboard creativity home study download – Musicarta Key Chords Volume 1 is now available.
'Key Chords' aims to make playing chords as easy and natural for the keyboard player as it is for the popular styles guitarist. It tells you which chords go together, and why – the six chords you can make out of the notes of a major scale. It tells you which of these chords you should learn first – the 'Big Three' (I, IV and V) major chords plus your 'first choice' minor vi (Six) chord, and it shows you the best way to learn them – step by step, in respectably groovy practice riffs!
The download consists of a 150-page illustration-rich PDF, all accompanying audio and MIDI files, the MidiPiano virtual keyboard app (Windows version) to play the MIDI files, drum backing tracks and a folder of relevant flashcards.
Click through to the Musicarta Key Chords Volume 1 home page to learn more, and check out the Mister Musicarta YouTube channel for relevant videos.
Here are some samples practice riffs from Key Chords Volume 1:
The Musicarta Canon Project
The Musicarta Canon Project is now available as an e-book digital download and on CD-ROM. Skeleton Canon Project web pages are being left on the internet so you can see how much you'll benefit from purchasing the Canon Project and you can download the MIDI files for these free-to-view Canon Project web pages. As always, MIDI file reference numbers are shown in the right hand audio player table cells.
Click through to the Canon Project home page here to read about the Canon Project, or go to the Canon Project table of contents and get exploring.
Or take the gap and … Buy Now!
The Pyramids Variations is Musicarta's flagship series of free online piano lessons. This series of eight lessons starts with the simplest chords (Lesson One, below) and coaches you step by step to a grand Concert Performance (Lesson Eight), teaching you the theory basics behind popular modern keyboard styles along the way.
Lesson Nine of the Pyramids Variations is a page of 'possibilities'. By working through the build-up to the Pyramids Concert Performance (Lessons One to Eight), you will get to know the Pyramids chord sequence so well that 'messing around' and creating your own Variations becomes possible.
A one-page 'mini-series' aimed at explaining and teaching Enya's simple but versatile solo keyboard texture.
With the usual audio and MIDI support and now with additional Musicarta YouTube video material , you'll soon have a handful of attractive piano solos in your repertoire, and a great new technique for your own keyboard compositions.
MUSICARTA MIDI SUPPORT
Musicarta has MIDI support for selected modules. In addition to the usual audio clips, you will find MIDI file reference numbers. These small files can be downloaded free and played on the free applications MidiPiano or Synthesia or any other MIDI application or instrument.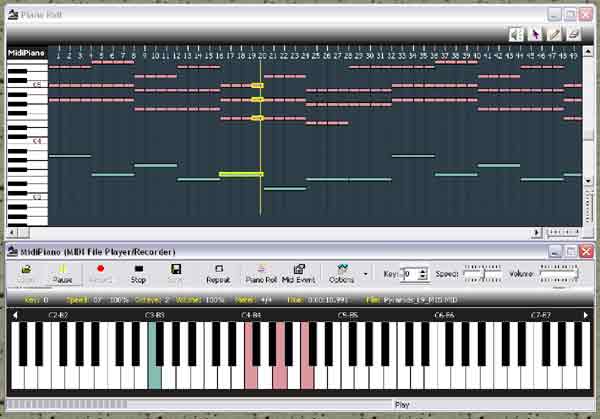 These applications will give you a visual display of the music as it plays with a 'piano roll' representation and lighting-up keys on a virtual keyboard. Watch this short demonstration video:
This text you don't see
The demo shows some of the features that make MidiPiano an excellent addition to your learning resources.
You will find the the MIDI file reference numbers in a table to the right of the audio file. For example:
Pentatonic scales are easy to learn (you can play six pentatonic scales on the white keys alone) and generate lots of music, from heavy metal through mainstream rock jamming to folk tunes.
And don't be put off by the 'scales' bogey word - practising pentatonic scales is almost like practising music. Many blues and heavy metal riffs are drawn practically note for note from the pentatonic minor scale - as the riffs below should convince you - while the pentatonic major is the rock music jamming scale par excellence.
Syncopated beat and rhythm skills are vitally important to the modern keyboard player - and generate great riffs, too - but the development of natural rhythm skills is usually left to chance.
Musicarta's Beat and Rhythm section offers a number of ways to feed your inner drummer. The two clips featured here are from the Syncopation and Anticipation series.
'Comptine' – Yann Tiersen 's lovely piano miniature – has become a standard 'New Age' repertoire piece. It's delightful to play, and everybody will find a version within their capabilities in the Musicarta two-lesson mini-series.
The table below offers six sample variations which come at the end of the second part of the mini-series. They show what you can expect to achieve by studying a piece using Musicarta's combination of text, graphic, and audio resources.

Musical modes are scales with a different order of whole tone and semi-tone steps to those found in the modern Western major scale. The chord families derived from the modes offer interesting alternatives to conventional modern harmony and good opportunities for improvising.
Part One deals with the modes as scales. Study this module for background.
The first two riffs in the table are from Part Two of the series, which introduces the Mixolydian mode. The next two riffs are samples from Part Three and use characteristic Mixolydian chord progressions.
Parts Four and Five explore a fruitful and easy-to-grasp two-chord set from the minor modes.
Parts Six, Seven and Eight add one further chord to make a three-chord Aeolian mode set you are bound to recognise!
Thanks for visiting MUSICARTA! Come back soon!