Like what you're seeing? Check out Musicarta Patreon - a new way to learn!

Patreon MUSICARTA Premium
The Pyramids Variations
Patreon Tier One sampler page

A few questions...
Have you ever said to yourself, "I wish I'd never given up the piano!"?
Have you ever said, "I'd love to be able to sit down and 'just play' …"?
Have you ever wished you could play chords as easily as a guitarist?
Well, if you can find this
'basic music-making position'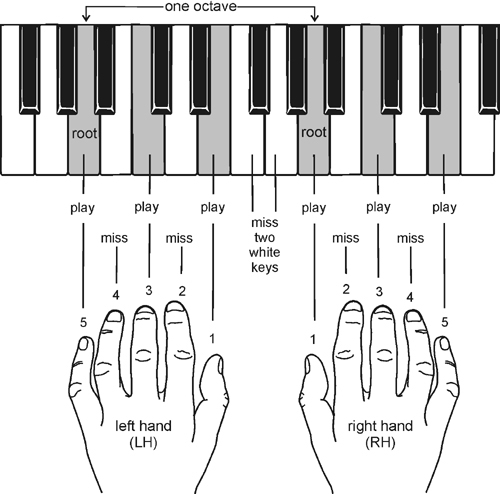 ... you can easily
Take up the piano again!
'Just sit down and play'!
Learn to play chords from chord symbols like a pro!
 ... and learn all this at home in your own time with the
Musicarta Pyramids Variations
Part One of the Musicarta Pyramids Variations is a tailor-made series of piano lessons online which fast-tracks any committed keyboard player to this Pyramids Variations 'Concert Performance' in just eight progressive lessons.
Here's your Lesson One performance, based on the simple hand position illustrated above.

From there, in just eight lessons, you build up to this grand 'Pyramids  Concert Performance'.
You can play like that - even 'starting from scratch'. Here's how!
Fast-track build-up - a new way to learn
Learning the piano the old-fashioned way is slow, because you can only play the music you can read. The Musicarta Pyramids Variations guarantees lightning progress by turning this formula on its head.
Using text, illustrations and audio and video, you learn to play the music at the keyboard, with the written-out music only there as a reminder (and for conventionally trained pianist who are joining the programme to develop their musical creativity...)
Every lesson in the build-up adds a little to what went directly before – there are no big surprises and no yawning gaps. The result is that you can build up to an impressive performance much faster than you could with conventional teaching.
And, unlike conventional piano-piece learning, where you have to master a whole piece to produce a performance, with the Pyramids Variations you always come away with a piece you can play. Each build-up stage stands as a performance in its own right - much more satisfying and encouraging!
Listen the these build-up audio clips
This series of audio clips demonstrates the build-up to the Concert Performance in Part One of the Pyramids Variations. Listen to the clips one after the other straight through – you can hear how each module builds on the one before, making learning the Concert Performance in just eight steps easily achievable.
If you'd like to see what these performances look like, browse the sample pages in the right-hand series navigation table, or watch a non-stop run-through on this MisterMusicarta Build-up playlist.

First, you learn how to use the Basic Music-making Position to play chords at the keyboard, and how to use chord symbols to find the eight chords in the Pyramids chord sequence. Here's what your Lesson One performance sounds like:
Here's a video of how Lesson One works in practice
In Lesson Two, a simple left-hand-over technique adds an introduction and an ending, making this pretty chord study:
In Lesson Three, you use your knowledge of chords to find the notes to use for a melody. Adding just one note per bar to your Lesson Two performance turns your chord piece into this great little solo:
The Basic Music-making Position lets you play chords up and down the keyboard freely. Add your eight melody notes and by the end of Lesson Four your Pyramids performance will be sounding like this:
In Lesson Five, you develop the melody using in-between notes you'll find right under your fingers:
Is this all sounding a bit too 'classical' for your liking? Don't give up on Pyramids just yet! Here's a taste of a funkier version from the 'Variations' section, later:

The four-section 'AABA' song form lies at the heart of thousands and thousands of popular tunes. You only need to apply your keyboard texture to the three new chords to expand you performance into this Lesson Six performance:
In Lesson Seven, you expand the new music to four-chord status:
…and you've learned all the components of the Pyramids Concert Performance:
Don't read music? Not a problem!
With the Musicarta Pyramids Variations, you don't have to read music to make swift progress. Everything you have to do is explained, with illustrations, sound clips and video.

Here's the Pyramids Variations Lesson Two MIDI file played on MidiPiano
In fact, the Pyramids Variations is a great way to learn to read music without having to use beginners' books – and going back to beginners' pieces!
Here's the MidiPiano-plus-scrolling-music video for Lesson Three, where you add the melody notes on top of the chords.
With all that help, it won't be long before you starting seeing how the written represents what you can already play and this Concert performance music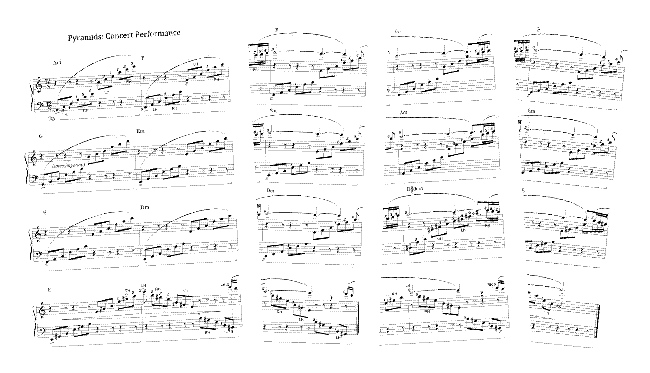 ... won't frighten you a bit!
The Variations

Once you've completed the eight lessons which build up to the Concert Performance, the Pyramids Variations offers you the opportunity to move forward into improvising, composing and 'just playing' by showing you how you can play the Pyramids chord sequence in many different ways.
Variations are a great model of keyboard creativity in action – playing a dozen variations on one chord sequence will teach you a lot more keyboard creativity than playing a dozen different chord sequences.
And because you know the Pyramids chord sequence so well, you're able to practise creating music by combining and varying slightly the familiar building blocks – practical knowledge you can apply to any chord sequence going forward.
Here are some of the variations on the Pyramids chord sequence you learn in the second half of the Pyramids Variations.
  Developing the Bass Line
Melodies usually move between chord tones via a series of non-chord in-between notes. The first module in the Variations section teaches you to think like a composer by taking a close look at what actually happens between the main anchor notes.
  Mixed Inversions
The Pyramids chord sequence is custom-made to give you the maximum musical return on your investment of time and effort. For example, raising the top of one chord conveniently produces an inversion of the next chord in the sequence. Easy, but sounds good!
  Descending Variations

The Pyramids Variations repeatedly shows you how to combine things you know in new ways to produce lots of new music relatively easily. These Descending Variations turn the mixed inversions upside down and put the melodic patterns from the Developing the Bass Line module at the top.
  Pyramids in Four-four Time

The six notes in the Basic Music-making Position make six-eight the obvious time signature, but it has quite a 'classical' feel. This module takes our chord sequence into the more rock-sounding four-four time sequence, with in-depth instructions for this attractive 3+3+2 quaver pattern.
  Circle of Fifths
Any self-respecting 'muso' has to know about the circle of fifths! By adjusting just three bass notes, you can turn the Pyramids chord sequence into a circle of fifths chord sequence and play it until you know the circle of fifths by heart.
  Further Variations
The Pyramids Variations ends with a springboard round-up of ideas and possibilities – examples of the treatments you could use on any song or chord sequence.
Here are a couple of examples – perhaps you can already start to hear how the familiar building blocks are being re-combined!
The music theory you will learn
Working through the Pyramids Variations will teach you the practical and theoretical aspects of:
Finding chords and naming them
Building major and minor chords
Understanding chord symbols
Forming inversions of chords
Adding a chord-tone melody to an accompaniment
Developing melodies and bass lines with non-chord tones
Playing a chord sequence in various time signatures
Understanding 16 and 32-bar song form
Using suspensions and 'slash chords' to enhance chord sequences
Playing sophisticated seventh chords
Playing from a lead sheet
Syncopation and anticipation
The Pyramids Variations brings music theory alive by showing you how to play attractive music which demonstrates each element in turn. You build your theoretical knowledge in step with your performance, in a way which will allow you to use it creatively going forward.
A creative syllabus for classical pianists
Do you want to leave written music behind and let your creativity out of the box? The Pyramids Variations is packed with new ways of understanding music which will develop your musical creativity.
The many illustrations and a structured approach to memorising both the music and the 'underlying structures' like the chord sequence, song form and keyboard texture, will help classically trained pianists and adult re-starters break free of written music and start to see the 'music in the keyboard'.
The Pyramids Variations provides an ideal creative supplement to conventional piano lessons.Teachers can familiarise themselves with the content of the modules one at a time and use them as a 'script' for a manuscript-free lesson segment.
Coach pupils to a performance well beyond their expectations and put them on a structured programme of 'really useful' music theory at the same time! Teachers can decide on an individual basis how much of the related theoretical background to present.
It's a living thing!
| | |
| --- | --- |
| The Pyramids Variations continues to be actively supported and developed at Musicarta. (The audio performance on the right surfaced during a recent trawl through the archives... .) | Your browser does not support the audio element. |
Musicarta Patreon subscribers get notifications when new material is posted. Coming back to material like this is a great opportunity to deepen your understanding of what really makes music tick.
The Musicarta Patreon Tier One offering
Musicarta's Patreon Tier One includes The Pyramids Variations and 'Chords 101', a collection of 28 chords-oriented piano-lesson web pages you can browse here.
A steady stream of Musicarta's currently free-to-air pages are migrating to the exclusive Patreon Tier One zone. You'll get notifications - but not so many as to bug you.
It's a great way to keep your musical journey moving forward! Check out our offering, and let Musicarta become your
'creative keyboard companion!'
Like what you're seeing? Check out Musicarta Patreon - a new way to learn!

THE MUSICARTA BEAT & RHYTHM WORKBOOK

At last! An effective approach to keyboard rhythm & syncopation skills. Learn more!
Also on Musicarta Patreon - only $5.00 a month!