Pentatonics Module One

Pentatonic scales have five notes – two of the notes in the ordinary scale are missed out. There are two pentatonic scales, a pentatonic major and a pentatonic minor. These scales are easy to learn and generate lots of music, from heavy metal through mainstream rock jamming to folk tunes.
Pentatonic scales are great for improvising because they provide a limited set of notes which sound good over a maximum number of chords. Because there are only five of them, it's easier to pick a note, and it's more likely to be a good one.

Finding the pentatonic scales on the keyboard

You can play six pentatonic scales using just the white piano keys – three major pentatonic scales and three minor pentatonic scales, in three pairs. The same five notes are used in each pair of major and minor pentatonic scales. These three pairs of scales are shown in the following diagrams.

The shaded notes on each keyboard are all pentatonic scale tones. One complete octave (T to T) is more darkly shaded. This octave is played up and down in the audio file.

The keyboards line up accurately with the written music, so you can use the keyboards to 'read' the music. The minor pentatonic scale is written in the bass clef just to help you read the notes – it isn't necessarily played below the major scale in practice.

Pick out the darker-shaded octave T to T, using two hands and any fingers that feel comfortable. The audio track under the diagram plays the major (top) scale first, then the minor (bottom) scale. – the one for the major scale is above, for the minor, below.

 C major and relative A minor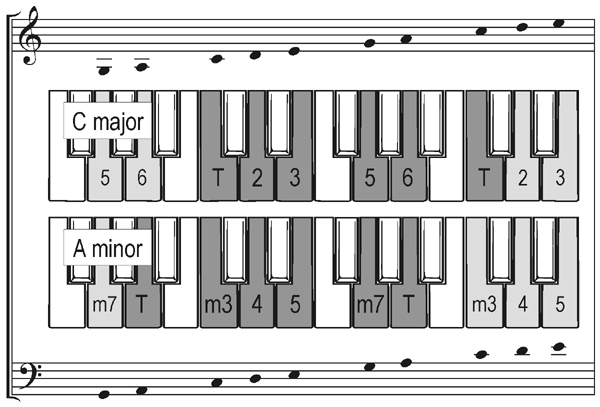 G major and relative E minor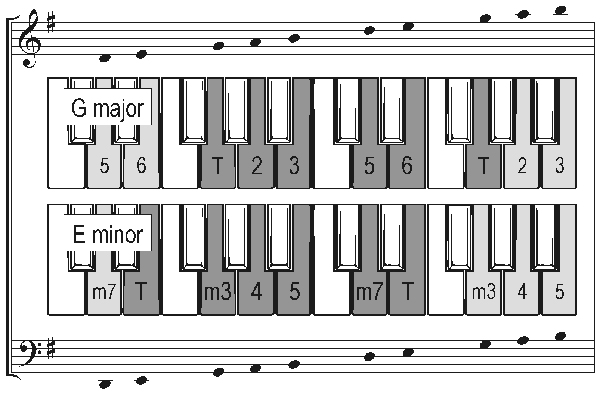 F major and relative D minor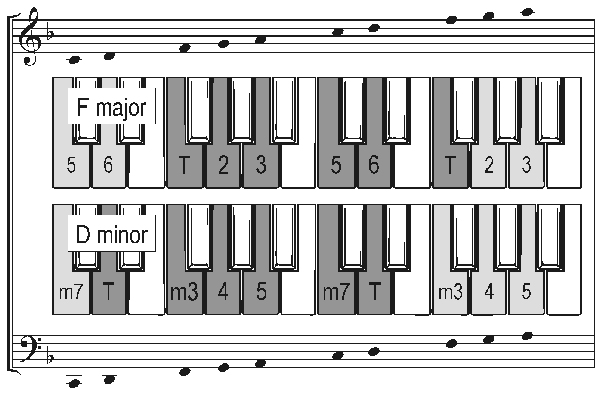 Using these keyboard diagrams, you can immediately start picking out pentatonic melodies at the keyboard. 'Doodle' with both hands covering a total of perhaps eight or nine notes - the T-to-T octave and a couple of notes either side. Start and end on your 'T' note (for tonic, explained below). You might find the scales sound familiar.

Here are some sample 'doodles'. They all start and end on the tonic (name-note). Try to copy them.
 C major
  A minor

  G major

  E minor

  F major

  D minor

---
Thanks for studying with MUSICARTA!
- Come again soon! -