Musicarta is going Twitch! ETA - Tuesday 13th June.
Bookmark keyboardcomposing and watch this space!
"

Music from scratch!" The


Musicarta Easy Piano Style




will have you




Making music in minutes!



The simplest of keyboard textures can build into a technique anyone can use  to 'just sit down and play'!
Here are the Modules One and Two performances - the first two 'Pairs of Chords'. You could probably play these straight away!
Now browse these sample contents pages to get an idea of what the Musicarta Easy Piano Style can do for you.
Introducing the Musicarta Easy Piano Style

If you want to "just sit down and play the piano", what do you do? What do you need to know?

The guitar pupil definitely has the edge – anybody can see the logic of the guitar fret-board diagram on the left, and strumming a guitar comes quite naturally. The result is that the student guitar player can be making music in minutes.
The Musicarta Easy Piano Style home-study download aims to make it just as easy for the keyboard player to do the same thing!
A hand position and a rhythmic texture
Put your left hand little finger on a note C;
Put your thumb on the next C up;
Your second finger will very likely be right over a note G. (Check against the photo.)
Then, for your keyboard version of the guitarist's strumming, you rock your left hand, playing bottom-middle-top-middle notes over and over.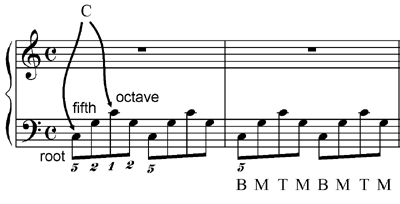 (To match up with the music, your thumb will need to be on 'middle C' on your keyboard.)
But you'll notice straight away that the sound is rather 'bald' – it's lacking the sweet chord tone – 'the third' – which right hand will play.
| | |
| --- | --- |
| | This illustration shows the right hand adding third. Notice the counting on the keyboard illustration, making sure you find exactly the right note – the third is different in major and minor chords. |
The music and sound file below show how quickly you can develop this hand position – with a few next-door right hand notes and a bit of rhythmic variety – into a pleasant keyboard study.
Here's a video of the performance.
You can follow the music even if you're a non-reader by watching the virtual keyboard portion of the video (the top half of the screen).

Now watch this video. It's a performance of your Musicarta Easy Piano Style first workbook module study – the 'First Pair of Chords'.
Perhaps you can see already that the whole piece is made from the same hand position and keyboard texture, but in two places – the C and D minor chords.
The second module builds on your abilities using a similar texture on a second pair of chords. Here are the hand positions it uses.
And here is the Mister Musicarta YouTube performance video to guide you.
Find out more! Click through to sample content page two here!

---
Musicarta digital home study downloads

Do you think you would enjoy learning keyboards like this?
Musicarta is the brand leader in digital keyboard home study. Your Musicarta Easy Piano Style download contains

An illustration-rich PDF workbook of around 135 pages;
The audio and MIDI files for all the musical examples; and

The MidiPiano application (to play the MIDI files).
The workbook has a full 45 pages of beautiful, playable piano music - the 21 studies and piano solos you can see-and-hear in advance on the Mister Musicarta YouTube MEPS playlist.

Musicarta's home-study downloads are the result of hours of classroom teaching, and are designed to structure your efforts, maximise your progress and give a boost to your keyboard creativity.
<!..Row 1 LH..>

MUSICARTA EASY
PIANO STYLE

The Musicarta Easy Piano Style shows you how to get your hands on the keys and start making music right away! With lots of graphics, full audio and MIDI support and all the solos on the Mister Musicarta YouTube MEPS video playlist, you're sure to get some beautiful pieces into your repertoire quickly – and learn how to find the music in the keyboard for yourself.

<!..Row 1 RH..>
---
If the Musicarta Easy Piano Style material isn't for you, there are three other Musicarta digital home study downloads to choose from.

The PYRAMIDS VARIATIONS

The Musicarta Pyramids Variations aims to exceed expectations by coaching beginners and re-starters to an impressive 'Concert Performance' in just eight lessons. After that, you learn a set of variations which model all the contemporary keyboard player's knowledge and skills.

<!..Row 3 RH..>
<!..Row 2 LH..>

The CANON PROJECT

Pachelbel's Canon in D is perhaps the most famous chord sequence of all time, and the basis of dozens of popular hits. If you can play and understand the Canon chord sequence, there isn't much in popular music harmony you won't be able to figure out! Its regular structure also makes it a great springboard for improvising and composition.

<!..Row 2 RH..>
All the Musicarta home study downloads are designed to help you enjoy becoming a creative modern keyboard player!
Click through to the sample content pages using the 'LEARN MORE' links to help you decide which home study pack would suit you best. 
If you like Rolling River, chances are you'll enjoy the first book of Musicarta piano solos.

PIANO SOLOS
Volume 1

Piano Solos Volume 1 is a collection of eleven solos from across the Musicarta spectrum. Each solo has a couple of pages of notes explaining how the music is put together and offering useful practicing advice. Easy-inter to inter-advanced solos with audio and MIDI files and player and a 50-page PDF (A4/US Letter).

<!..Row 3 RH..>
Click through to the Solos page to check out the contents in detail.

---
Musicarta is going Twitch! ETA - Tuesday 13th June.
Bookmark keyboardcomposing and watch this space!
THE MUSICARTA BEAT & RHYTHM WORKBOOK

At last! An effective approach to keyboard rhythm & syncopation skills. Learn more!
Also on Musicarta Patreon - only $5.00 a month!