Musicarta is streaming on Twitch TV! Bookmark keyboardcomposing and check the schedule for your local times!
Let's play

Blues Piano Lessons
...with the Musicarta Twelve-bar Piano Styles workbook!

This Blues Piano Lessons page is your portal to all things twelve-bar at Musicarta! And please note that the term 'blues piano' is often used loosely as a cover term for all twelve-bar genres, many a lot livelier than the term 'blues' suggests – and many not 12 bars long either!
Chiefly, this page is a detailed contents overview of...

The Musicarta Twelve-bar Piano Styles Workbook

Musicarta has distilled decades of playing twelve-bar music and giving blues piano lessons to put together a digital home study package guaranteed to give you a fast, painless and open-ended introduction to twelve-bar piano styles.

<!..Row 2 LH..>

The MUSICARTA 12-BAR PIANO STYLES WORKBOOK

Blues, boogie-woogie, rock'n'roll – twelve-bar music comes in many forms, and a working knowledge of the basics is essential for the modern keyboard player. The Musicarta Twelve-bar Piano Styles workbook puts dozens of real 12-bar riffs and grooves into your repertoire and walks you through the rhythmic, harmonic and melodic building blocks of the 12-bar style.

<!..Row 2 RH..>
Looking for the Moving Pair riff?
The old Musicarta Moving Pair riff series of lessons now forms Part One of the Twelve-bar Piano Styles workbook. Read on for a full overview.

Look what you get!

The Twelve-bar Piano Styles Workbook consists of:
One hundred and thirty graphic-rich, example-dripping pages! Look at this flat-plan screen-shot.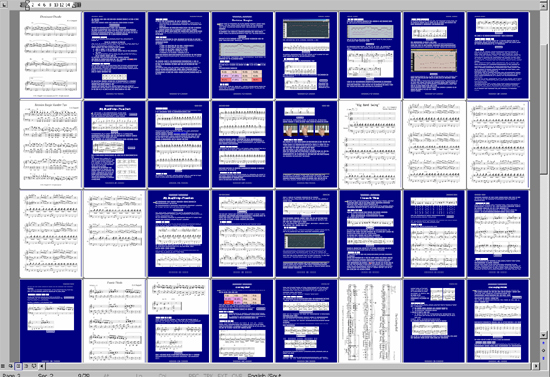 It's the very opposite of a dry, theoretical text-book or collection of historical transcriptions.
Musicarta's unique web-supported learning model lets you listen to audio of all the musical examples on 'members-only' web-based duplicates of your study modules, accessed via a password-protected members' portal page.
– and the MidiPiano virtual keyboard to play them on. MidiPiano turns every MIDI file into a training video. That's 200 + potential training videos with pause/repeat/speed control. You cannot fail to learn!
Twelve-bar music is pretty much 'aural tradition' hear it-play it music – but that doesn't mean you're not entitled to the dots if you want them – laid out to professional standard and print-ready for your music stand.
Performance videos of module solos and riffs
There's nothing quite like watching somebody else do it to press that 'can do' button! You can see a part of these videos on the Mister Musicarta YouTube Twelve-bar playlist – but what you don't see there is the simultaneous virtual keyboard playback showing exactly which keys to play and how to get your hands there. That's what you get in the teaching videos on the module web pages – just like a personal one-on-one lesson!
<!..Row 2 LH..>

The MUSICARTA 12-BAR PIANO STYLES WORKBOOK

Straight blues and boogie aside, twelve-bar form and styles run like a thread through popular music and are an essential component of any popular-styles keyboard player's bag of tricks. The twelve-bar is a perennial musical meeting place, and the Musicarta Twelve-bar Piano Styles workbook will ensure you're never short of an idea or two of your own!

<!..Row 2 RH..>
A never-ending story
A member of legendary UK r'n'b band Doctor Feelgood was reportedly once asked "Why are you still playing that old stuff?" He was puzzled. "'Still playing'…?", he replied. "Are people 'still playing' Beethoven?"
Twelve-bar is timeless. It may go out of fashion for a while, but it's never out of date. The keyboard players who can muster any kind of solo twelve-bar performance will tell you there's no surer way of getting your musical mojo working than a dozen or so choruses of lively boogie!
Mister Musicarta certainly doesn't intend  giving up twelve-bar music any time soon – and in fact has a healthy backlog of  un-released performances and lessons ready to drip-feed the lucky people who 'sign up for the course'.
That way, you keep coming back and finding that that once-impossible syncopation has somehow slipped across into your 'can-do' folder, that you're listening and hearing more intelligently, that you're playing riffs and textures from – wherever – as if they're your own…
Congratulations! You're a  blues-and-boogie player!
<!..Row 2 LH..>

The MUSICARTA 12-BAR PIANO STYLES WORKBOOK

The irresistible drive of the twelve-bar form raises the musical vitality of everybody it touches! The Musicarta Twelve-bar Piano Styles workbook offers a methodical approach to learning essential 12-bar keyboard syncopations and understanding the simple harmony that makes this timeless music so accessible and attractive.

<!..Row 2 RH..>
Click through to sample content page two here!

Stay connected!

New material is being posted on Musicarta all the time - and the blues-and-boogie zone is in for a big shake-up! Get the RSS feed (button LH col) or bookmark the Musicarta blog page and check in regularly to read the updates.
Finally, subscribe to the Musicarta Newsletter (below) for the occasional news round-up - and DISCOUNT CODES for Musicarta's exciting digital home-study publications. You'd be crazy not to!



Sign up for the Musicarta News! Get an overview of Musicarta in manageable monthly slices, keep up to date with new postings and get the latest discount codes.

The Musicarta News - regular encouragement to learn and progress!

Musicarta is streaming on Twitch TV! Bookmark keyboardcomposing and check the schedule for your local times!
THE MUSICARTA BEAT & RHYTHM WORKBOOK

At last! An effective approach to keyboard rhythm & syncopation skills. Learn more!
Also on Musicarta Patreon - only $5.00 a month!