Musicarta is streaming on Twitch TV! Bookmark keyboardcomposing and check the schedule for your local times!
Musicarta Beat and Rhythm Workbook

Tapping Exercises
Advanced Left Hand Rhythms

The Musicarta Beat and Rhythm workbook develops the rhythm skills needed for modern popular-music keyboard styles. The series home page has details and a Table of Contents of all the material.

Hand patterning in modern popular music keyboard playing often looks a lot like conga or bongo drumming. The tapping series of the Beat and Rhythm lessons develops this expertise methodically and shows how rhythm patterns can be used to generate piano/keyboard riffs.

This is the fourth module in the tapping series. If you have not already done so, please work through the series from Module One. The first module in particular has essential information about the beat maps and how to use the lesson material.

Left hand variants – second group
The next step in developing your beat and rhythm skills is to incorporate more varied left hand patterns. Here are some variations that are authentically pop/rock in style.

The beat maps show the rhythm pattern and the audio buttons next to them play the rhythm. Underneath is a riff based on the rhythm pattern, and an audio clip of the riff.
 Riff One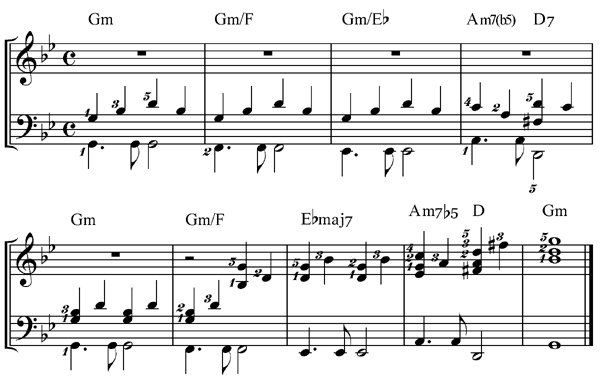 Riff Two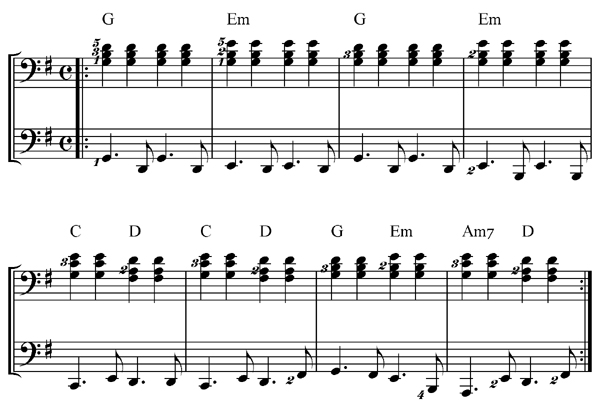 Riff Three
If we tie the quavers over, we get an even more syncopated sound. The count 3 crotchet beat has in effect been 'anticipated' (pulled forward).
The beat map audio plays straight (even) quavers, but note the instruction to 'swing' the quavers in the actual riff.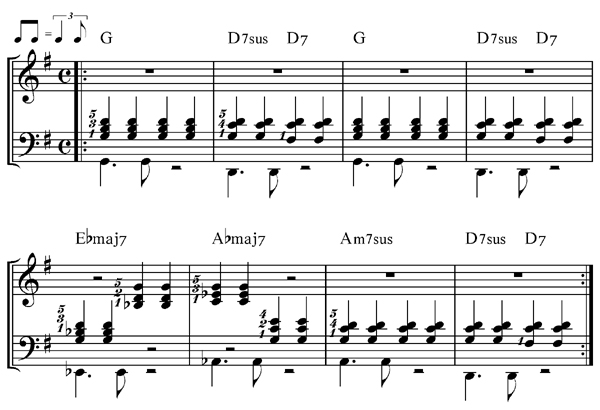 Riff Four

This riff also has swing quavers.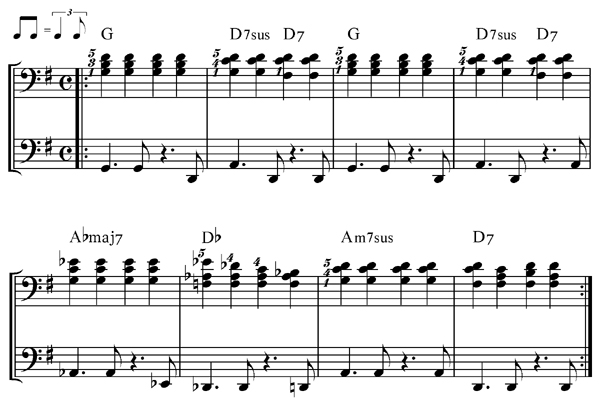 Riff Five

The right hand crotchets have been split up into quavers (half-notes). Male sure you can tap the right hand rhythm.
Notice that, now both hands are playing off the beat, we need to work out the counts for both left and right hands and total them up to get the TLR (together-left-right) analysis.

Here's a previous riff (slightly adapted) with the new left hand.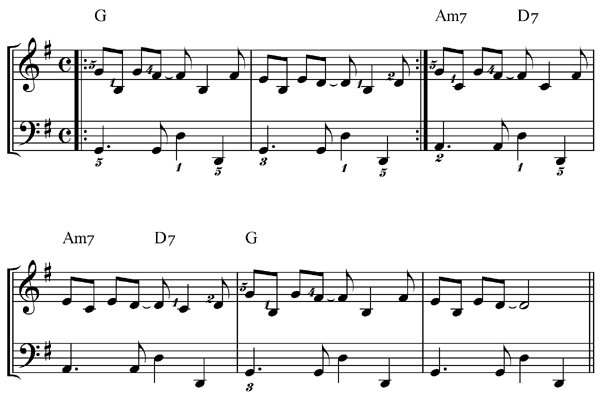 The riff  applies a beat pattern to the harmonic 'raw material' shown below. It's an efficient practice to technique to 'look beneath the waggling of the hands' and \learn the chord voicings before you complicate matters with the rhythmic texture.

Moving on from here

Now look at this beat map/rhythm evolution.
If we tie the left hand quaver over, we have this rhythm.

This is the quintessential rock 1–4–7 rhythm, and the sole subject of the following module.
Musicarta is streaming on Twitch TV! Bookmark keyboardcomposing and check the schedule for your local times!
THE MUSICARTA BEAT & RHYTHM WORKBOOK

At last! An effective approach to keyboard rhythm & syncopation skills. Learn more!
Also on Musicarta Patreon - only $5.00 a month!