Welcome to Musicarta's

Key-specific Keyboards



Key signature study focus page

---
When a trained musician sees a key signature, he or she automatically 'filters' their view of the keyboard to match the key signature. If the key is D major, the white keys F and C are provisionally 'erased' and replaced by the black keys F sharp and C sharp indicated in the key signature.
In the musicians eye, the piano keyboard has become 'key-specific' - it is the keyboard for that key.

This collection of illustrations shows the key-specific keyboard arranged progressing from C major through the sharp keys as far as
F sharp major, then from C major through the flat keys to G flat major.
Key to the diagrams

Refer back to this sample keyboard illustration as you read the notes below.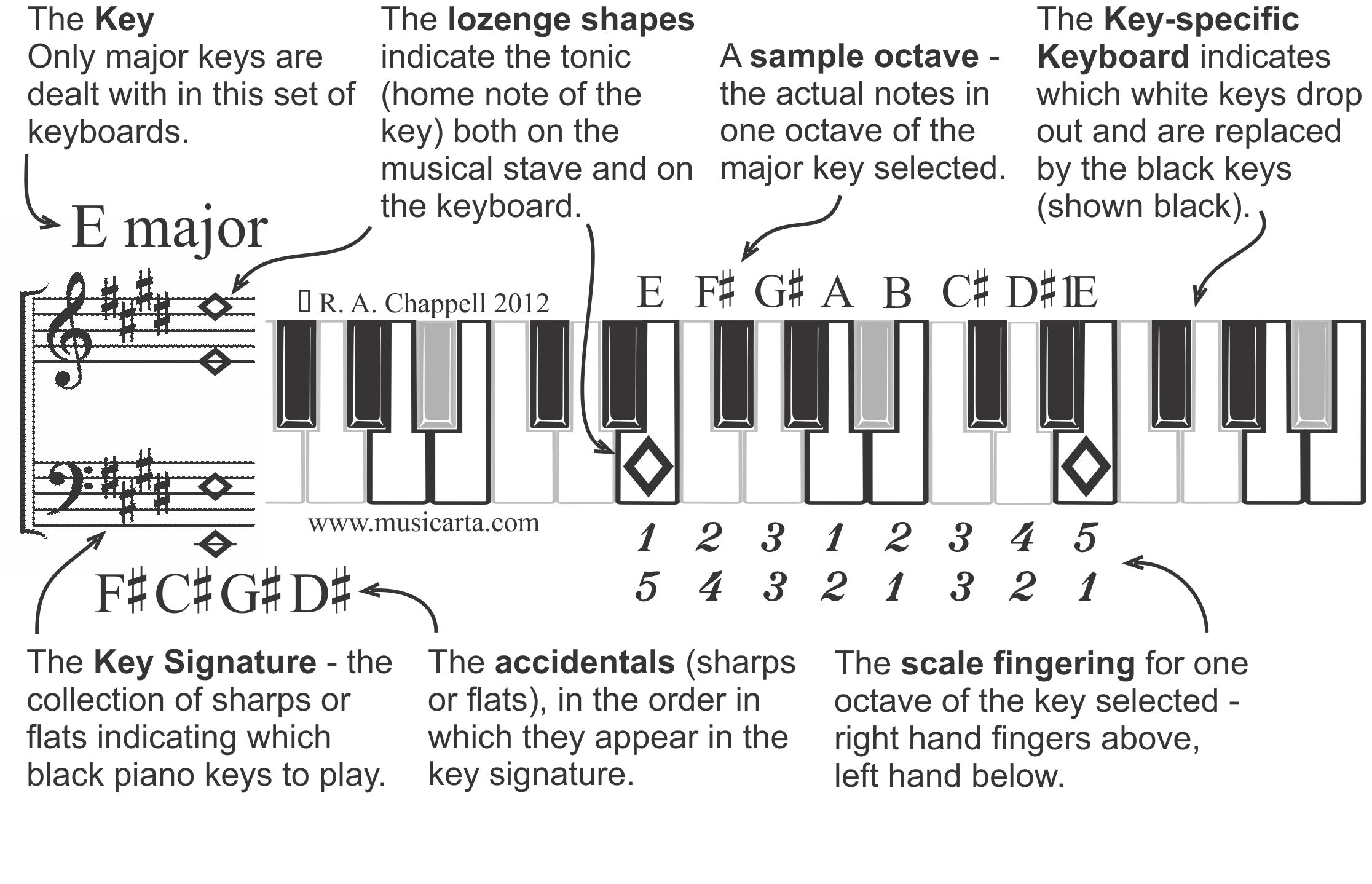 The diagrams show first 'the key' in text (C major, F major etc.) Below that is the piano stave (treble and bass clef) showing the key signature sharps or flats. Below that is a list of the sharps or flats in the key signature, in text.
The 'tonic' (home note) is indicated on the stave by the lozenge shapes. This same lozenge shape indicates the tonic on the keyboard with, too. On the demonstration 'key-specific' keyboard illustration, the white keys that are played in the key are shown with a strong outline – as they are replaced with the black keys indicated in the key signatures, they are greyed out. The black keys belonging to the key signature illustrated are shown in black; you do not play the greyed-out black keys.
There is a demonstration octave on the keyboard. Above the keyboard you see the names of the notes in one full octave of the key in question – the scale tones of that key. Below the keyboard is the one-octave scale fingering, the right hand above the left hand.
The illustrations are © copyright R A Chappell. You may reproduce these diagrams for non-commercial, private study purposes only. Removing the Musicarta branding is breach of copyright.
Here's a sample 'Key-specific Keyboard' diagramme.

Musicarta guarantees that staring at this beauty (and her eleven little friends) will demystify the scale-and-key of E major in a fraction of the time the usual 'trial and error' approach wastes.
Leaving you free to get on and make music!

The rest of the Musicarta material on key signatures
How the sharps and flats build up;
How to immediately name a major key from the key signature;
The 12 invaluable Key-specific Keyboard Diagrammes;
"and much more besides!"  

 . . . has now moved to the
 Musicarta Patreon Tier One Zone

 . . . an excellent and stimulating collection of creative keyboards repertoire and reference resources - at a very reasonable price!
Check it out here, and let's move this music thing forward.