Like what you're seeing? Check out Musicarta Patreon - a new way to learn!

Patreon

MUSICARTA

Premium


Pentatonic Hanon Exercises
~ PentHan 15-06-20 ~

These web pages host the Pentatonic Hanon video performances and exclusive Musicarta Patreon Tier One music manuscript and teaching notes.
You can discover more about pentatonic scales and pentatonic music in general via the Musicarta Pentatonics home page.
Pentatonic Hanon 15-06-20
Penthan 15-06-20 has an eight-straight-quavers right hand - NOT triplets, for once - but grouped 3+2+3.
This, over left hand crotchets (quarter notes), gives an unexpected overall (but incorrect!) three-over-two feel - for free!
In order to feel the rhythm thoroughly, count the quavers/eighth notes "1-2-3 1-2 1-2-3" right through a couple of times. For some reason, it's more difficult to 'get' coming down the scale. 

Both sets span three keys (white-key tonics) a whole tone apart. The first set rises C minor-D minor-E minor, then falls back through the same keys.
Note that the left hand is indicated to 'sound one octave lower than written' (instead of having '8vb' lines cluttering up the music), but play where best suits you/your instrument.

First set

Download the pdf here.

Second set

The second set also covers three white-key tonics a whole tone apart, but falls first - from A minor - then rises.
Play in whatever octave suits you.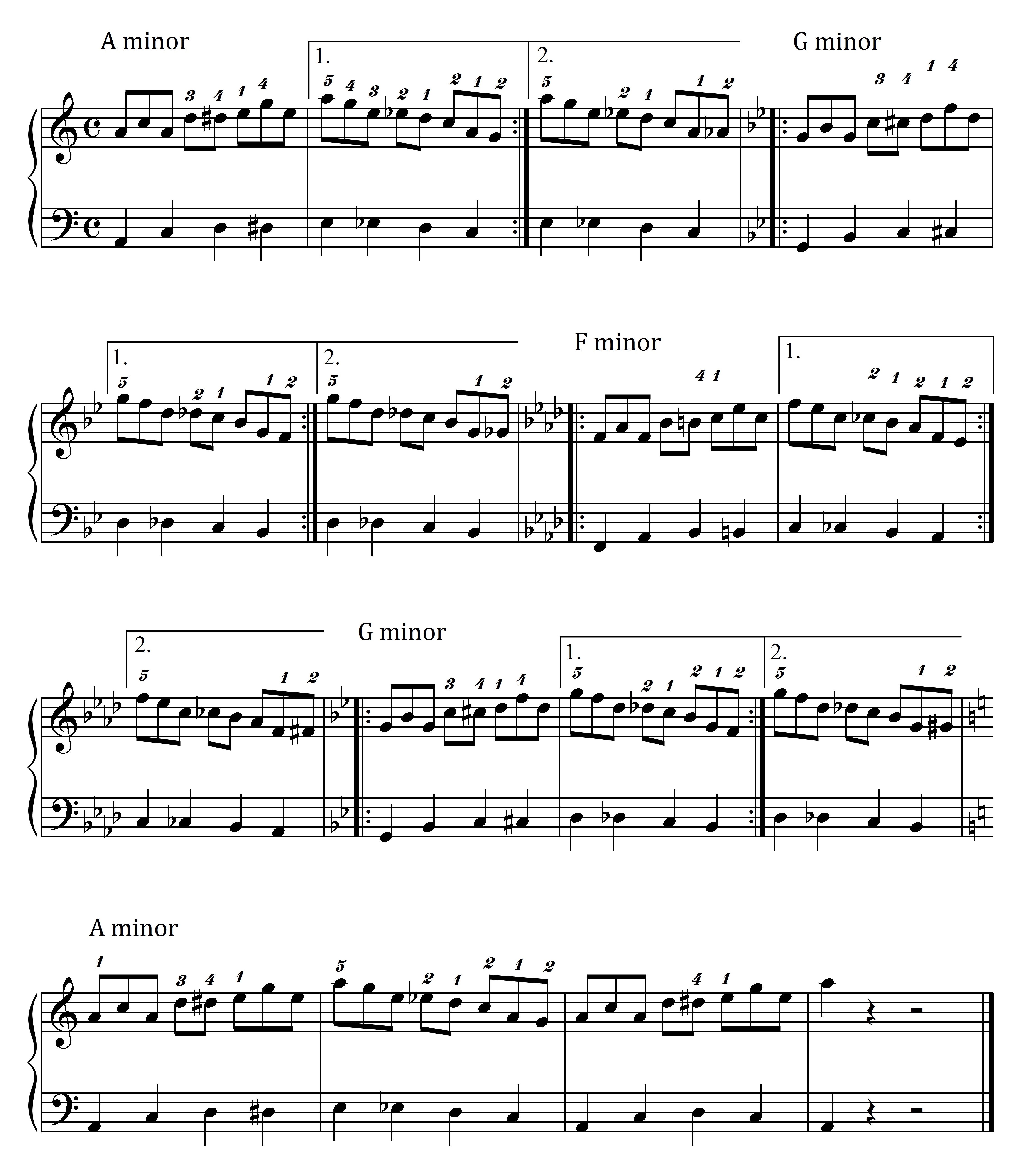 Suggestions for further work

Include B minor in the second set.
Practice until you are able to modulate without the repeat.
Devise a way to play this rhythmic texture in 12-bar i-iv-v key groups. Two sets - Em-Am-Bm and Cm-Fm-Gm - covers most keys.
Apply this 3+2+3 grouping to other 8-quaver exercises.
Like what you're seeing? Check out Musicarta Patreon - a new way to learn!

THE MUSICARTA BEAT & RHYTHM WORKBOOK

At last! An effective approach to keyboard rhythm & syncopation skills. Learn more!
Also on Musicarta Patreon - only $5.00 a month!