Patreon

MUSICARTA

Premium


Pentatonic Hanon Exercises
~ PentHan 27-07-19 ~

These web pages host the Pentatonic Hanon video performances and exclusive Musicarta Patreon Tier One music manuscript and teaching notes.
You can discover more about pentatonic scales and pentatonic music in general via the Musicarta Pentatonics home page.
Pentatonic Hanon 27-07-19 - minor

Teaching notes
The right hand covers minor seventh up to the fifth, with #4/b5, and plays in triplets (not shown).

The pattern as a whole ascends by whole tones from C to G sharp.
The left hand covers the whole minor pentatonic scale plus #4/b5.
The LH tuplet crotchets/quarter notes in the second bar shouldn't be a problem - they align with every other of the tuplet quavers/eighth notes in the right hand.

Here is the MS for Pentatonic Hanon 27-07-19, Ascending.
Note: Learn the exercise one key/position at a time. You can ignore the F# and G# minor patterns for now - or for ever, in fact!

Descending
Here is the MS for Pentatonic Hanon 27-07-19, Descending. The pattern descends by whole tones from C sharp to F sharp.
The performance is the second half of the video, above.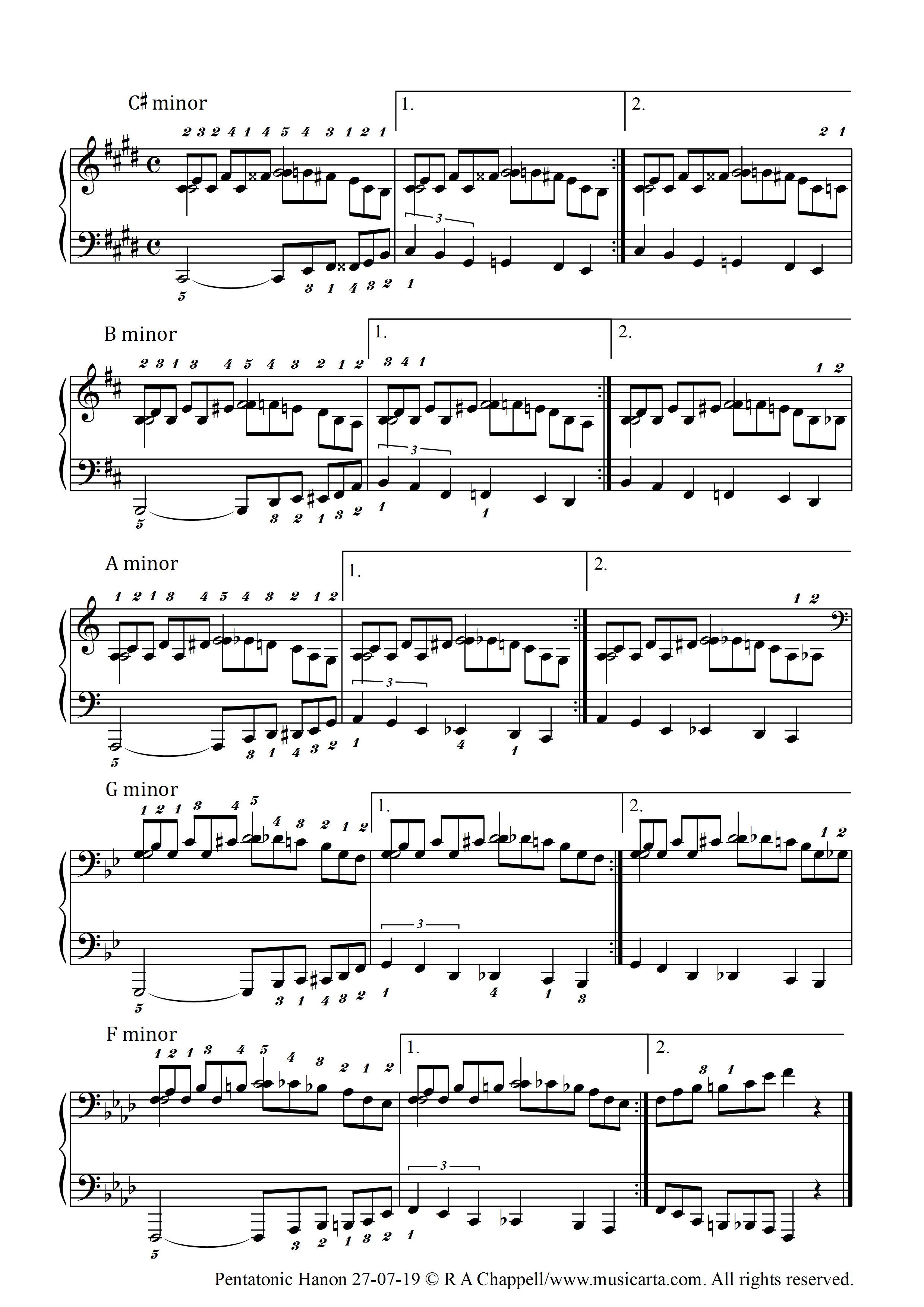 As above, feel free to concentrate on just the 'easy' Bm/Am/Gm portion initially.
The descending half is written andplayed low quite: play an octave higher ad lib.

The pdf download link (above) covers both the ascending and descending halves.

Thanks for studying with Musicarta
- Come back soon! -