Chord Shapes Drill
Most popular modern keyboard styles involve playing triads in the right hand with the melody note at the top – or, looking at it the other way, harmonising a melody with a triad propping it up.
Either way, you need to be seeing the three basic triad shapes (root position, first inversion and second inversion) below the top one of a triad, which is invariably 'the note you hear'.
Here's the drill video.
The triad shapes drill is built on a simple formula. You play the three possible triad shapes on each of eight scale tones ascending, and play them in perfect mirror image descending.
There are three movement types in the drill – two with the three inversions always in the same order and one mixing the two orders. Pause the video and study the little three-line voice movement diagrams above the scrolling music until you see clearly the difference between the three types.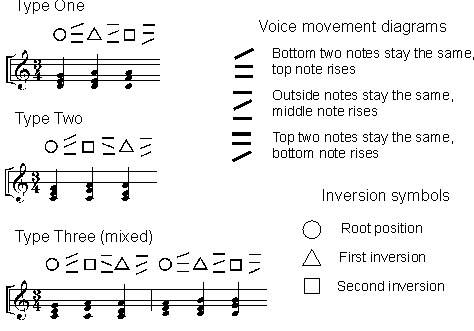 Notice also that Musicarta uses circle/square/triangle symbols to indicate the three inversion shapes. Refer visually to the symbolsfrom time to time – it helps distinguish the three inversion shapes more clearly in your mind.
The basic challenge – in all-white-key C, at least – is simply to load the movement formula and keep going. (The mixed type is harder – skip it at first if you like.)
Playing the drill in D (two sharps) and B flat (two flats) – or any 'key-signature key' – is more complicated and involves:
Knowing (or learning) your key signatures* and the black keys they indicate**, and
Doing everything required to get your fingers to the chords – mainly letting your hand go towards the back of the keys and using your thumb on the black keys where necessary. Note that the drill is NOT fingered to encourage you to devise your own get-there-on-time solutions 'on the fly'.
[* There is a section on learning the key of D on the Scales home page.]
[** Refer to the Musicarta Key-specific Keyboards resource.]

Practice the drill in sections. Feel free to mix it up a bit. You could learn Type One ascending (Section 1) in C, then in D (Section 7), then in B flat (Section 13), for example.
Try to devise fingering which lets you keep going without 'running out'. Always use RH2 for the middle note of a first inversion chord, and 1, 2, 4 for a root position chord when ascending. Note however that the drill is deliberately NOT fingered to encourage you to devise your own get-there-on-time solutions 'on the fly'. Freely-playing popular styles keyboard musicians do not always have time to follow classical music fingering rules!
Use this chord shape drill to train your musical ear at the same time. You should expect to be able to hear what the next chord in the pattern is going to sound like. In general popular styles keyboard work, the chord you will want in your right hand is probably one of these three types (inversions). Playing through this drill over and over again will help you guess correctly which one it is.
This is a mechanical exercise, but that doesn't mean you should 'switch off' when you play. To keep going and keep getting it right requires attention, but remember, you're really doing this to learn the keys, both in your hands and in your head.
It's worth obsessing over something once in a while! Commit to being able to play the chord shapes drill in keys up to four sharps or flats, and you'll be a better pianist – for ever!
Continued after the break!

---
Do you enjoy learning keyboards like this? Musicarta has released three digital home study packs designed to structure your efforts, maximise your progress and give a boost to your creative music-making!
Each package comprises:
An illustration-rich PDF workbook of around 150 pages;
The audio and MIDI files for all the musical examples;
The MidiPiano application (to play the MIDI files); and
Drum and/or instrumental backing tracks to support you practicing and inspire your improvisations. (See individual product specs for variations.)
The three Musicarta keyboard creativity downloads are:
<!..Row 1 LH..>

KEY CHORDS Vol. 1

Musicarta Key Chords builds your chord vocabulary by introducing the chords you are most likely to come across in any song. You practice the chord changes in contemporary riffs (drum backing tracks are included), with easy step-by-step rhythmic build-up of impressive keyboard syncopation.

<!..Row 1 RH..>
The PYRAMIDS VARIATIONS

The Musicarta Pyramids Variations aims to exceed expectations by coaching beginners and re-starters to an impressive 'Concert Performance' in just eight lessons. After that, you learn a set of variations which model all the contemporary keyboard player's knowledge and skills.

<!..Row 3 RH..>
<!..Row 2 LH..>

The CANON PROJECT

Pachelbel's Canon in D is perhaps the most famous chord sequence of all time, and the basis of dozens of popular hits. If you can play and understand the Canon chord sequence, there isn't much in popular music harmony you won't be able to figure out! Its regular structure also makes it a great springboard for improvising and composition.

<!..Row 2 RH..>
| | | |
| --- | --- | --- |
| Good value? Please | | and keep free Musicarta online! |
---
Going forward creatively with chord shapes drills

Musicarta is very keen on 'baking two pies in the same oven'! Play the drill in broken chords and add a syncopated bass. You'll probably be in 9/8 – (three three-note triads), so these syncopated bass patterns suggest themselves: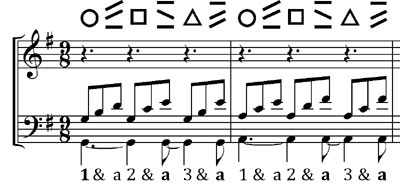 You notice straight away that we are in G (one sharp - F sharp) - but that needn't bother you. All you have to do is put your right hand thumb on a G, form a root position triad (every other note) and 'go through the motions'.
This is a Type Two pattern: the top two notes go up, then the middle one falls, then the bottom two go up. Here's what your performance will sound like.
Getting the syncopation is quite easy if you take your time and think about it first. The right hand plays on every quaver beat – counted "One-and-a two-and-a three-and-a…"
Eliminate the tied bass notes and you see (and hear!) that the left hand plays three notes in the bar. The counts they come on (= the right hand quavers they come with) are bolded in the counting:
"One-and-a two-and-a three-and-a…"
Feel free to
Abandon the rhythm while you practice putting the bass notes in the right 'quaver slots'; and
Simplifying the right hand while you build speed and predictability, like this:
Here's a more complicated bass line, under a Type One pattern,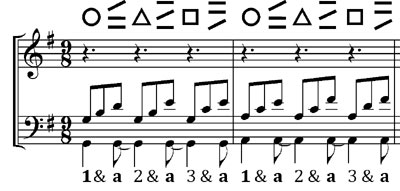 The count is:
 "One-and-a two-and-a three-and-a…"
There are four bass notes in the bar. The middle two 'anticipate' (come just before) the beat.
Now it's your turn! Can you:
Hear another bass line for the rising chords?
Devise a bass line for the descending pattern?
Fit the three broken chords into another time signature, and devise a syncopated bass for it?
And finally here's a play-it-by-ear challenge. Can you work out what's going on here? (We're still in G.)
And finally here's a play-it-by-ear challenge. Can you work out what's going on here? (We're still in G.)
The level is intermediate/advanced, so don't be discouraged if don't get it straight away. You are listening to the voices of a chord and you know where to start – and that's the point!
Thanks for studying with Musicarta!
- Come back soon! -