Musicarta is streaming on Twitch TV! Bookmark keyboardcomposing and check the schedule for your local times!
Musicarta Twelve-bar Piano Styles
Performance Troubleshooting

Warning! This section might feel a bit too 'back to school' for your liking! Feel free to skip forward and keep on building your Moving Pair performance – but at some stage you're likely to get frustrated making the same mistakes again and again. That's when you should perhaps come back and try applying some of the efficient practice techniques outlined here. They can save you a lot of time!
Efficient practice techniques
Musicians who can play twelve-bar riffs faultlessly:
Know the twelve-bar chord structure – the three lines of four chords, and what those chords are;
Know at any point in time where they are in the chord structure;
Know which actual notes they have to jump to when the chord changes; and
Can physically manage the jump.
In the beginning, you probably don't know or can't do any of these things one hundred percent. Trying again and again at a slowed-down practice speed is an irreplaceable part of learning something, but you also want to practice efficiently, which means understanding why your performance breaks down.
If you repeatedly make the same mistake or stumble in the same place, try to establish why – which of the points given above you're particularly weak on – and work on that.
For example:
You don't know the structure.
One tried and tested way of learning something is to write it out yourself – more than once! Draw or print out a sheet of twelve-cell tables. Fill the chord symbols in – copy once, then go from memory. Don't be afraid to do this even if you're well past school age – it works! Colour the tables in and use them as bookmarks, stick them above the sink, on the bathroom mirror, etc., etc.
You 'lose your place' and don't know where in the structure you are.
Closely related to the above. Have one of your tables right there in front of you as you practice, and insist on knowing for sure where you are. There are landmarks – the second line/group of four bars starts with C; the third line/group of four bars starts with D.
Play-and-say this drill: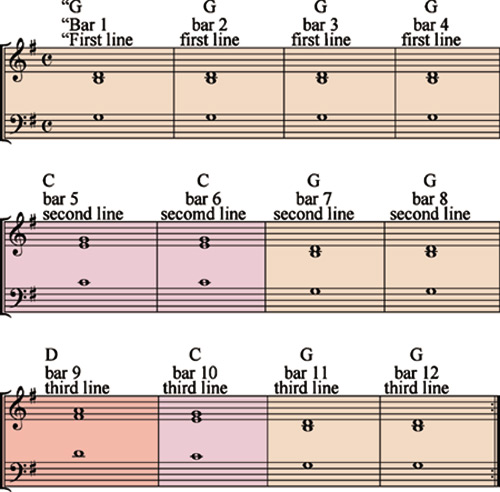 There are three lines of text – the chord, the bar number, and the line. (Your twelve-bars won't always be written out on three lines, but it helps to always think of them as three rows of four bars.)
Play through the chord sequence at any comfortable speed actually saying these 'lyrics' out loud – no matter how awkward it feels.
"If you can say it, you can play it"
            …is a favourite Musicarta maxim – because it works!
If this is too difficult, talk yourself through the Moving Pair riff showing that you know perfectly where you are and where you're going.
You don't know which actual notes you jump from, and to.
You actually jump from the middle pair of right hand notes. The actual jumps are:
Middle pair of G to bottom pair of C
Middle pair of C back to G
Here are the jumps (in the order they occur) in written-out music, with an audio performance to copy.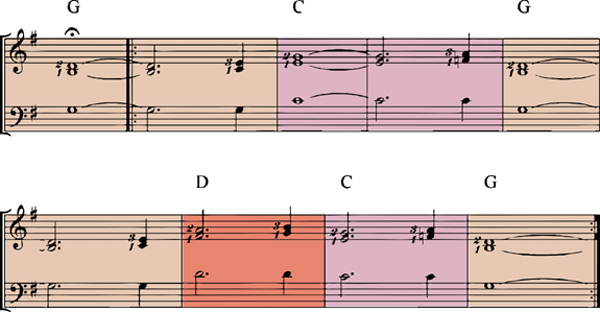 Fingering numbers in music are always tiny, so read once and 'get the pattern'. You  jump from the middle pair of one chord, fingered 1–3, to the bottom pair of the next chord, fingered 1–2.
Don't be concerned with playing in time – the music is just a sketch of the exercise. Abandon the music as soon as you possibly can and just watch your fingers doing it.
You can't physically manage the jump.
Once you know the notes you're aiming for, practice as if you're playing golf or throwing darts. That is, 'just do it' over and over, and make corrections according to what goes wrong.
'Naming and shaming' drastically reduces the lifespan of mistakes, so say out loud what you do wrong: "This hand doesn't go far enough." (or "…goes too far.") "I always play this (wrong) note instead of this right one here!" You'll find you stop doing it a lot more quickly.
---
Module summary
Taken all together, these points can paint a rather negative picture!
Many Musicarta learners are working on their own, and need to be their own teachers. To do this, you have to sit back from time to time and take a broader view of how effectively you're practising.
Any one of the tried-and-tested efficient practising tips above might dislodge a blockage and make all your practicing going forward more pleasant and more productive.
But first, you have to recognise inefficient trial-and-error practicing even when you're right in the middle of it – and before frustration undermines your motivation.
Musicarta is streaming on Twitch TV! Bookmark keyboardcomposing and check the schedule for your local times!
THE MUSICARTA BEAT & RHYTHM WORKBOOK

At last! An effective approach to keyboard rhythm & syncopation skills. Learn more!
Also on Musicarta Patreon - only $5.00 a month!