THE MUSICARTA BLUES PIANO SERIES
Moving Pair Riff Module Five
The Two-Plus-Two Format
This is Module Five in the Musicarta 'Moving Pair Riff' series of blues piano lessons.
Musicarta always aims to teach more than 'just a riff'. The site is about unleashing your keyboard creativity. Improvising and composing at the keyboard doesn't happen in a vacuum. Every new thing is a bit like (or perhaps a lot like!) something that went before.
If you know a musical thing like the 'Moving Pair' of this series inside out, back to front and upside down, new combinations of the elements, with perhaps a different feel or in a different rhythm, will come together in your head and, hopefully, out through your fingers.
You will have composed or improvised some new music!
Module Five of the Moving Pair series continues moving you towards this goal by showing you more ways that the essentials of the riff can be recombined – and puts more variations on this timeless riff into your bag of 12-bar keyboard-ready tricks. Here's the main Module riff
As you can hear, it sounds 'fatter' and has more impact. More importantly, it splits the notes between the hands differently, opening the way to yet more combinations.
If you've 'just landed', please explore! If you like what you see, click up to the Moving Pair Riff Module One and get started on this riff, or go to the Blues Piano Lessons series home page for an overview of Musicarta's other 12-bar and blues modules. If you're totally new to Musicarta, please browse the tabs on the navbar, left, to get a feel for what's on offer, or visit the Musicarta home page for a more methodical overview.
Note that MIDI computer music files are available for most of the Musicarta lessons. If you download MidiPiano, Musicarta's recommended 'virtual keyboard', you can watch the music examples playing on a keyboard and unfolding in a helpful, intuitive 'Piano Roll' display. You can also listen to MIDI files as basic audio in e.g. Windows Media Player – and both applications can slow performance down, to make following even easier.
Please take the time to download MidiPiano – it will prove a valuable addition to your learning resources. MIDI files are tiny, and there's no waiting for video to buffer. If you need help with zipped folders, there are full instructions on the Musicarta MidiPiano page (link, above left) as well.
The Moving Pair – Two-Plus-Two format
Most of the Moving Pair riff variations we've explored so far have added an extra root (G) below our Moving Pair combinations. This module kicks off by adding a root note above.
Find the following four-note chords. (These are the 'starting positions' only – this is not the riff, yet.)
The root (name-note of the chord) has been 'doubled' – there are now two of them, top and bottom, with the moving pair in between them.
There are two notes in the left and two in the right. The notes are colour-coded green for left and red for right. These are the same colours that show when you play the series MIDI files on MidiPiano
Use any fingers, for now.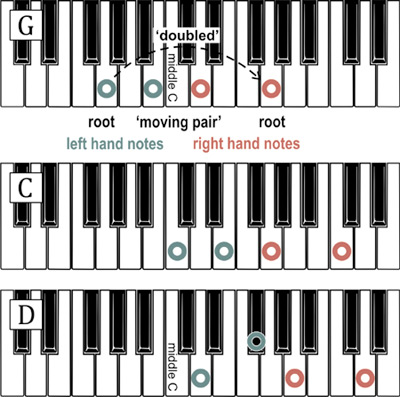 In order to move forward, you have to get the right fingers lined up for what's coming next.
These are the fingers you should use on the starting chords:
This is the fingering given in the written-out music example above. Fingering in written-out music is always tiny and the easiest thing to overlook, but make an effort to pay attention – bad fingering will trip you up every time until you fix it, and it's easier to get into good habits early on than fix bad habits later.
As you can see in this sample G position photo, the hands are right up against each other – perhaps an unusual feeling.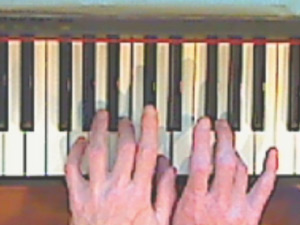 The left hand thumb is over the right hand thumb, ready to play the note D in its turn.
Find the starting chords again, using the proper fingering.
The next task is to 'move the pair' up and down as before – but now the pair is one left hand and one right hand note, inside the two stay-the-same top and bottom notes:

This fingering diagram applies to all three positions: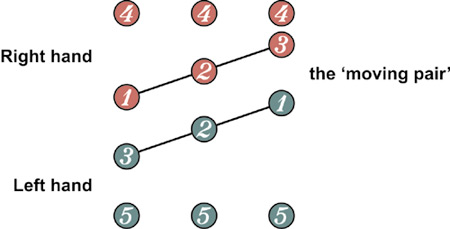 This is the fingering indicated in the written-out music, as well.
Whenever you get a new thing like this to learn, break it down and practice it methodically. This will save you time and speed you progress immensely.
Always ask yourself:
What does just the right hand do? (...and practice just that...)
What does just the left hand do? (...and practice just that ..)
What fingering is going to be effective?
What happens 'at the same time'? What 'goes with' what?
Here's a model practice drill. The player is 'looking at the material from all angles' and working every aspect of it thoroughly. You can hear possible new riffs emerging from just the practicing.
Watching the drill on MidiPiano is particularly helpful here. If you haven't already installed MidiPiano and downloaded the MIDI files for the Moving Pair series, do so now!
Now, without the kick note, apply the rhythm and movement of the original Moving Pair riff to this new four-note arrangement. Do this in the G, C and D position.
---
Next, add the right hand 'kick' note.
The RH kick note fingering is this: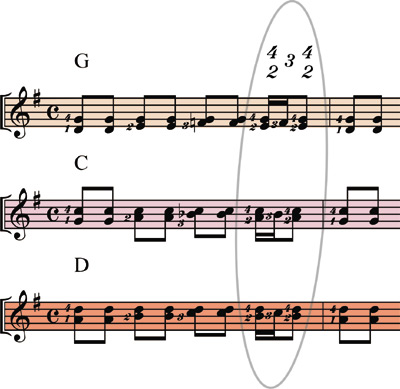 That's quite tricky to play - you might be happy with this half-way-house version for now:
You miss out the second right hand finger four of the 'kick' bit. It's a lot easier, but...
TAKE NOTE!
Popular music isn't 'easy', just because it's popular, and finger exercises aren't just for classical musicians. You should have a book of finger exercises, like Schmitt or Hanon (see below) and have a regular practice schedule. Finger exercises improve your ability to play the music you want – nothing 'square' or irrelevant about that!
Hanon - The Virtuoso Pianist. Schirmer's Library of Musical Classics Vol. 925
Schmitt – Preparatory Exercises. Schirmer's Library of Musical Classics Vol. 434
---
Next, add some left hand anticipation – only now it's the left hand little finger that 'jumps the gun'. As before, drop the right hand kick note until you get some momentum going.
Practice the movement in the three positions, G, C, and D, as in the performance clips. In the audio and MIDI performance clips, the left hand actually plays this:
Your version doesn't have to be exactly the same - you could have more, or less, syncopation – every beat or just the first beat in the bar (you did both those in Module Four). The best way forward is to copy – roll your left hand from the little-finger-side down first, see what you come up with and build on that.
(Note that that goes generally, too. Don't wait for perfection with these 'extras' before going on – make a genuine effort, get a decent 'for now' version going, and bookmark for further practice. It's more important at this point that you get an idea of the different ways the 'moving pair' can be made into a keyboard groove.)
---
Try adding the right hand kick back in. (You'll be playing the full Module riff.)
The kick note will come with the before-the-beat left hand little finger. The MidiPiano 'Piano Roll' view shows this clearly:

The section about practicing methodically earlier suggested you ask the question
What happens 'at the same time'? What 'goes with' what?
MidiPiano is perfect for dispelling confusion over things like this and generally tightening things up. If you haven't
downloaded MidiPiano
and the
series MIDI files
, do so now!
The whole riff in two-plus-two format
It's more efficient to practice the 'bits' before putting it all together, but once you have some proficiency, go on to fill up the chord sequence with your version of the two-plus-two Moving Pair riff.

Now you have the jumps between positions to think about – which sometimes seems to make everything you learned before fall apart!
Build up again. Practice the riff-plus-jumps using this mini chord sequence.

Go through. at practice speed
with just the basic riff (two-plus-two format),
with the right hand kick note,
with left hand anticipation (only), and
with both.
Take that 'at practice speed' seriously. It's far, far better to practice painfully slowly and have everything happen on time than to practice up to speed and have delays in the music. It's easy to get into the habit of giving yourself that extra bit of time to get there, especially if you play alone a lot, and it's a difficult habit to break.
Here's the module riff again, for easy reference.
---
This is the end of Module Five of the Musicarta Moving Pair Riff series of online blues piano lessons.
This module has presented a lot of quite difficult keyboard styling. You may have felt that it was a bit beyond you technically at this point in time. Well, you are not alone! Every musician feels like that at times. But the good news is that practice works, and it's mental stamina - the keeping coming back to it – that wins the day.
Also, you might never need a stage-perfect, hard-driving 50s/60s roll'n'roll keyboard riff like this - the riffs you end up using might well be slower. But you still need to be tight, so listen carefully to your playing and clean up relentlessly.
Lastly, dissecting and recombining isn't just an exercise for the sake of it - it's your key to keyboard creativity, as you'll see when you click through to Module Six and play the Moving Pair with a real bluesy feel.
Thanks for visiting Musicarta.com! Come again soon!