Like what you're seeing? Check out Musicarta Patreon - a new way to learn!

Welcome to Musicarta's piano MIDI files page!
You may have arrived here from a number of different directions, so here's a quick orientation.
Musicarta.com is a free online piano lesson site dedicated to helping you learn to play popular music styles at the keyboard, with the emphasis on CHORDS and how to play them. (Click up to the Musicarta home page here for an overview of the site - or bookmark us to check it out later.)
Musicarta offers MIDI support for most of its learning material - meaning you can download MIDI files of the musical examples in the lessons and hear-and-see them play on a 'virtual keyboard'.
(If you're already a MIDI ninja and have arrived here looking for heavy-gauge MIDI files to use in your sequencer/DAW, sadly Musicarta doesn't have those - but you might still gain a lot from your visit.)
But however you got here, welcome! Please bookmark us and browse the tabs on the navbar, left, at your leisure, and see if Musicarta couldn't kick-start, re-start, fast-track or just re-kindle your musical journey!
The MidiPiano virtual keyboard
To get the most out of your piano MIDI files, Musicarta recommends MidiPiano, a small, safe and simple application that can easily become a helpful part of your music learning process. MidiPiano has a valuable 'Piano Roll view' which displays music graphically – the chief reason for using piano MIDI files.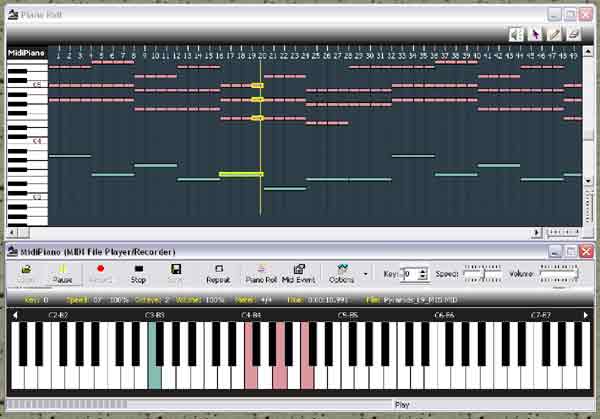 There are full instructions for downloading and installing the free MidiPiano virtual keyboard and for downloading and extracting the zipped Pyramids MIDI files folders on the...
Musicarta MidiPiano download page
You will find instructions for using MidiPiano to play your Musicarta MIDI support files there also.
A more modern and slightly better-looking alternative is Synthesia. The free app does the basics, but you have to pay to unlock the more advanced - and more useful - functions.

Listening to MIDI files as audio
Most media players, including Windows Media Player and Real player, will play MIDI files as audio, so you can use these small MIDI files as audio support files to help you learn away from you computer and without being connected to the internet. Double-clicking the file icon will in most cases make the media player play the file as audio - though at very basic quality.
Young musicians who know about MIDI sequencing and have software synthesizers or DAWs will be able to use the Musicarta MIDI files as source material, but please note that all Musicarta material is copyright the author unless otherwise stated, and all rights are reserved.
Play like Enya!
Enya's haunting Celtic melodies are a gift to the modern popular-styles pianist, and her standard keyboard texture is simplicity itself.
Musicarta YouTube hosts a number of Enya performances.The teaching videos, MIDI files and chords charts are available as part of Musicarta's Patreon Tier One offering.
Musicarta also offers a home-study package called 'Musicarta Easy Piano Style, which shows you how to use Enya's easy keyboard style as a stepping-off point for your own improvisations.
<!..Row 1 LH..>

MUSICARTA EASY
PIANO STYLE

The Musicarta Easy Piano Style shows you how to get your hands on the keys and start making music right away! With lots of graphics, full audio and MIDI support and all the solos on Mister Musicarta YouTube, you're sure to get some beautiful pieces into your repertoire quickly – and learn how to find the music in the keyboard for yourself.

<!..Row 1 RH..>
With Musicarta's combination of explanation/illustration, video and chord charts, you can't fail to learn this simple but attractive piano solo style.
Click through to the Musicarta Easy Piano Style YouTube playlist here!
---
Other pages of interest - Yann Tiersen's Comptine

Musicarta's Yann Tiersen 'Comptine' mini-series - now part of the Musicarta Patreon Tier One offering - shows how this keyboard gem is put together, and how to make it part of your repertoire.
---
Stay in touch and get the latest Musicarta Publications offerings at a discount.
Like what you're seeing? Check out Musicarta Patreon - a new way to learn!

THE MUSICARTA BEAT & RHYTHM WORKBOOK

At last! An effective approach to keyboard rhythm & syncopation skills. Learn more!
Also on Musicarta Patreon - only $5.00 a month!