Piano MIDI files
Welcome to Musicarta's piano MIDI files page!
You may have arrived here from a number of different directions, so here's a quick orientation.
Musicarta.com is a free online piano lesson site dedicated to helping you learn to play popular music styles at the keyboard, with the emphasis on CHORDS and how to play them. (Click up to the Musicarta home page here for an overview of the site - or bookmark us to check it out later.)
This web page is a central download location for the MIDI files relating to Musicarta's free online piano lessons.
Musicarta offers MIDI support for most of its learning material - meaning you can download MIDI files of the musical examples in the lessons and hear-and-see them play on a 'virtual keyboard'.
Musicarta recommends the free 'MidiPiano' desktop application for playing the MIDI files. It's completely safe to download, and easy to install and use. You will find instructions for doing so, and for dealing with the zipped folders of MIDI files, on the
Musicarta MidiPiano download page.
If you're already a MIDI ninja and have arrived here looking for heavy-gauge MIDI files to use in your sequencer/DAW, sadly Musicarta doesn't have those - but you might still gain a lot from your visit.
But however you got here, welcome!. Please bookmark us and browse the tabs on the navbar, left, at your leisure, and see if Musicarta couldn't kick-start, re-start, fast-track or just re-kindle your musical journey!

Your Piano MIDI Files page continues after this important announcement!
Stop Press! Latest Musicarta Home-study Release!
<!..Row 2 LH..>

The MUSICARTA
MODES WORKBOOK

The modes are known as scales for improvisation – and for generating intriguing chord sequences not available in the conventional major/minor key system. Here is methodical, 'lean' approach to building a sound and productive knowledge of modes for the modern-styles keyboard player, packed with riffs which will expand your chord vocabulary – and your stock of rhythmic keyboard skills.

<!..Row 2 RH..>
Thank-you for your patience!
The MidiPiano virtual keyboard
To get the most out of your piano MIDI files, Musicarta recommends MidiPiano, a small, safe and simple application that can easily become a helpful part of your music learning process. MidiPiano has a valuable 'Piano Roll view' which displays music graphically – the chief reason for using piano MIDI files.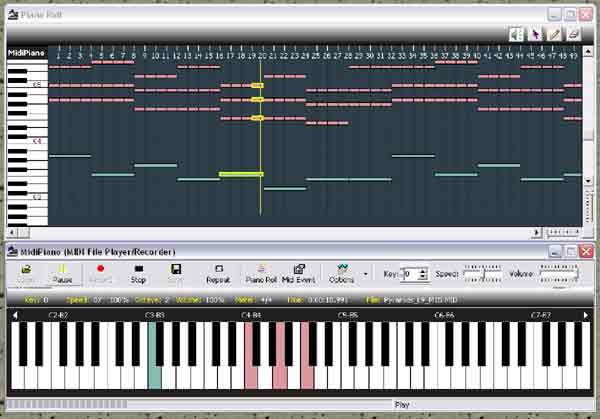 There are full instructions for downloading and installing the free MidiPiano virtual keyboard and for downloading and extracting the zipped Pyramids MIDI files folders on the
Musicarta MidiPiano download page .
You will find instructions for using MidiPiano to play your Musicarta MIDI support files there also.
MIDI file download links
Enya's haunting Celtic melodies are a gift to the 'New Age' piano soloist, and her standard keyboard texture is simplicity itself.
Musicarta YouTube hosts a number of Enya performances. You can download the MIDI files and chord charts here.
Enya's easy keyboard style is also a great improvisation stepping-off point. There are 12 'Enya Studies' videos on Musicarta YouTube which show you what can be done. Click through to the Musicarta Enya page here. With Musicarta's combination of explanations, MIDI, video and chord charts, you can't fail to learn this simple but attractive piano solo style.
---
Musicarta has released four major digital home study packs which make full use of MidiPiano's excellent educational capabilities. Each package comprises:
An illustration-rich PDF workbook of around 150 pages;
The audio and MIDI files for all the musical examples;
The MidiPiano application; and
Drum and instrumental backing tracks to support you practicing and inspire your improvisations.
(See individual products specs for variations.) The four main Musicarta keyboard creativity downloads are:
<!..Row 1 LH..>

MUSICARTA EASY
PIANO STYLE

The Musicarta Easy Piano Style shows you how to get your hands on the keys and start making music right away! With lots of graphics, full audio and MIDI support and all the solos on Mister Musicarta YouTube, you're sure to get some beautiful pieces into your repertoire quickly – and learn how to find the music in the keyboard for yourself.

<!..Row 1 RH..>
<!..Row 1 LH..>

KEY CHORDS Vol. 1

Musicarta Key Chords builds your chord vocabulary by introducing the chords you are most likely to come across in any song. You practice the chord changes in contemporary riffs (drum backing tracks are included), with easy step-by-step rhythmic build-up of impressive keyboard syncopation.

<!..Row 1 RH..>
<!..Row 2..> <!..Row 2 LH..>

The CANON PROJECT

Pachelbel's Canon in D is perhaps the most famous chord sequence of all time, and the basis of dozens of popular hits. If you can play and understand the Canon chord sequence there isn't much in popular music harmony you won't be able to figure out. Its regular structure also make it a great springboard for improvising and composition.

<!..Row 2 RH..>
<!..Row 3..>
<!..Row 3 LH CONTENT..>

The PYRAMIDS VARIATIONS

The Musicarta Pyramids Variations aims to exceed expectations by coaching beginners and re-starters to an impressive 'Concert Performance' in just eight lessons. After that, you learn a set of variations which model all the contemporary keyboard player's knowledge and skills.

<!..Row 3 RH..>
Click through to the series home pages using the 'LEARN MORE' links. There are sample content pages to help you decide which home study pack you would enjoy most.
---
The Musicarta Seventh Chords drill is a methodical way to get on top of these essential but sometimes confusing chords.
Download the Seventh Chords MIDI files here
Musicarta's Yann Tiersen 'Comptine' mini-series shows how this keuyboard gem is put together, and how to make it part of your repertoire.
Download the Comptine mini-series MIDI files here
The Musicarta Keyboard Chords - Inversion Method shows you how to practice inversions so that you 'see the chords in the keyboard' and can easily put any of the three chord tones at the top.
Download the Inversions Method MIDI files here
[Please note that the 'Chord Progressions' series has now been released as the Musicarta Key Chords Vol. 1 digital home study pack, and the MIDI files are no longer available.]
Once you have downloaded the files and extracted them use the MIDI ('M') file reference numbers in the web page tables to locate the file and see-and-hear the musical example playing in MidiPiano. You are sure to find it a valuable addition to your learning resources!
Listening to MIDI files as audio
Most media players, including Windows Media Player and Real player, will play MIDI files as audio, so you can use these small MIDI files as audio support files to help you learn away from you computer and without being connected to the internet. Double-clicking the file icon will in most cases make the media player play the file.
Young musicians who know about MIDI sequencing and have software synthesizers or DAWs will be able to use the Musicarta MIDI files as source material, but please note that all Musicarta material is copyright the author unless otherwise stated, and all rights are reserved.
---
Your best way to stay in touch...
Thanks for visiting MUSICARTA! Come again soon!