Patreon MUSICARTA Premium
Chromatic Scales

The Chromatic Dominant Scale

The chromatic dominant scale:
flattens the seventh scale degree of the major scale, to give the dominant scale (or Mixolydian mode); and

inserts three additional semitone steps - sharp 2/flat 3, sharp 4/flat 5 and sharp 5/flat 6 - giving the chromatic dominant scale.
The resulting 10-note scale, which gives much more scope in melody-writing and improvisation, will sound immediately familiar.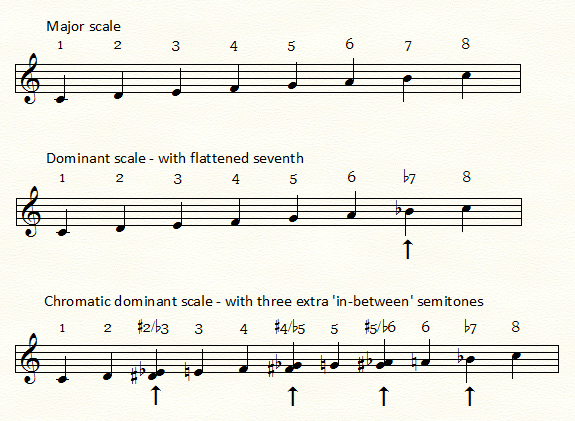 The resulting scale is all semitones, except the first step.
Now to start learning the scales. Only the chromatic dominant scales built on the white keys (the notes of the C scale) are dealt with here. If you learn these thoroughly, the flat-key chromatic dominant scales will be apparent to you.
The Chromatic Dominant Scales

We're going to learn the chromatic dominant scale up from all the white keys in a four-step process:
You play the major scale
Flatten the seventh
Insert the three semitones, and
Work out the fingering.
Here's the teaching video. Watch and copy.

As you see, the fingering ends up being grouped 3+3+4, 4+2+4 or 4+3+3.
Here's the music, with correct fingering.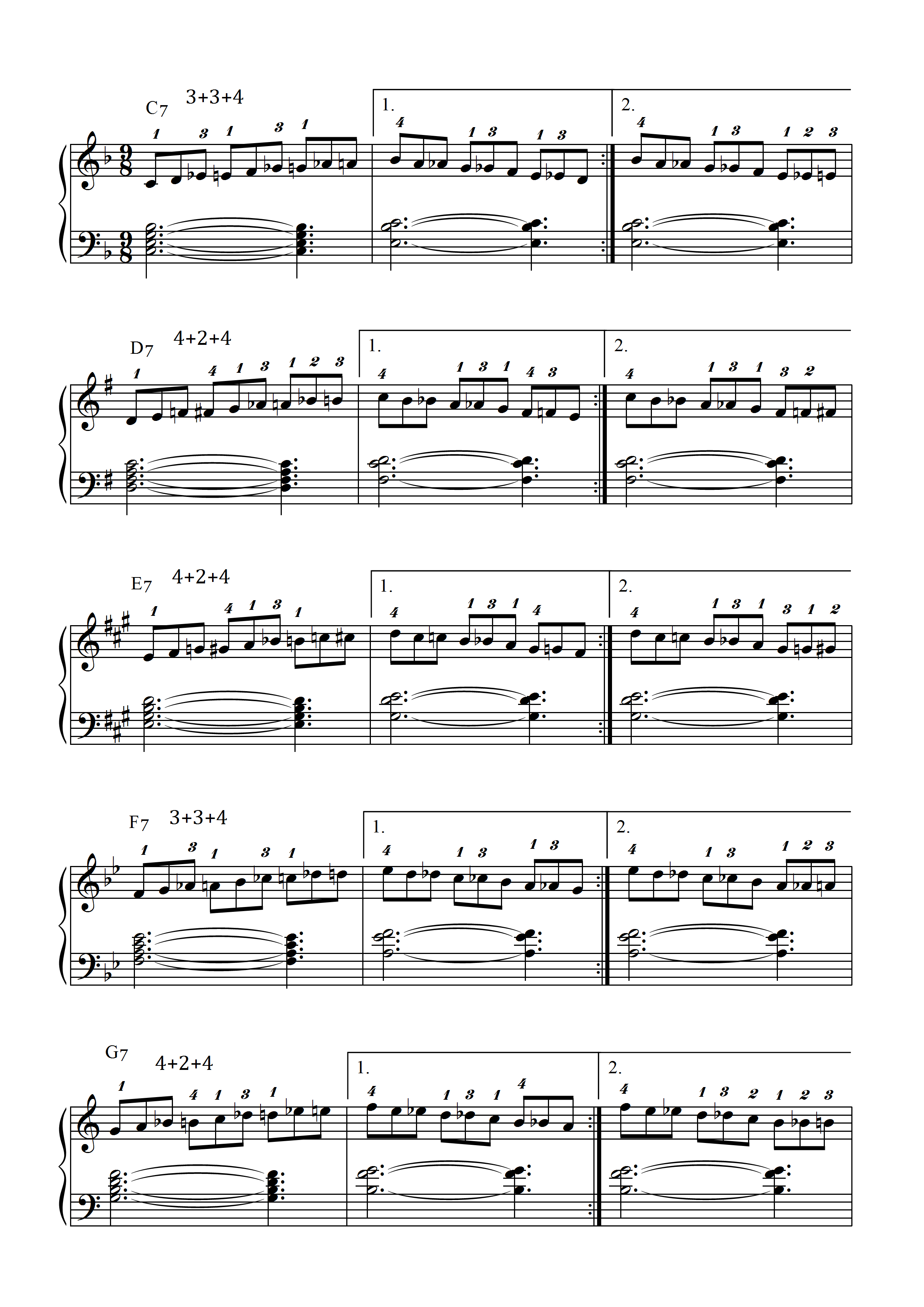 The first and second endings are slightly different. The first-time ending goes straight on down to the tonic; the second-time ending turns back a semitone (so new fingering) before dropping to the new tonic.
To avoid confusion, clearly identify this feature!
The following demonstration video plays through all seven chromatic dominant scales, but there's a pause between keys.
Play through all of these for the experience, and to get used to thinking the fingering through.
You should ideally be able to match the speed.
Practice the transitions particularly - always the hardest part.

Then go on to play the two properly musical 'ChromDom' studies (Page Two of the mini-series), or use the series nav below to dot around.