Like what you're seeing? Check out Musicarta Patreon - a new way to learn!

Patreon MUSICARTA Premium
Pyramids Variations

Alternative Concert Performance

Make the most of the work you have put into learning Pyramids by playing the full Concert Version at the end of a build-up from the simpler versions.
Here is a sample arrangement.

The performance above is made up of:
Pyramids with LH-over Patterns (two-chord, 16-bar A1A2 - Lesson Two);
Two-chord AABA performance, with simple melody for the first two strains (AA) and developed melody for the second half (BA) (Lessons Two and Five);
Segue into:
Pyramids Concert Performance (with four-chord introduction) (Lesson 8);
To finish, segue into:
An eight-bar, two-chord A2 with simple melody to finish (the 'Reprise' - Lesson Three).
In music, 'segue' ["seg-wey"] means 'transition without a break into the next section of music or piece'. For example, you could make the last note A of one version the first note A of the next (as in the 'seque into the Reprise' in the example performance).
Here's the music for the segue into the Reprise.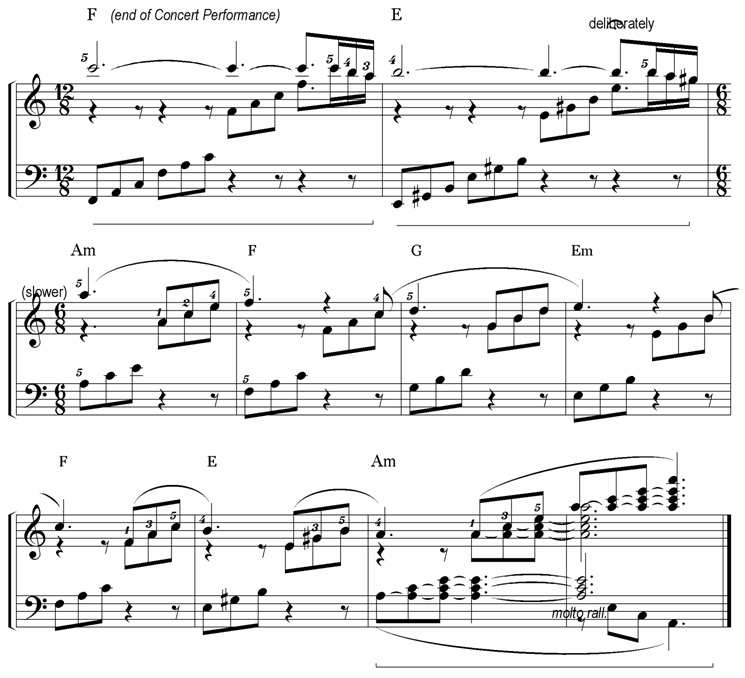 Challenge yourself to put together another arrangement.

Write down your compositions in shorthand:
"First strain (A1), two chords only, no melody
Repeat an octave higher..."
You don't have to use dots to write music!
Or think of stretching the music out, as if it were background music for a film.
Now go on to the Variations. These will give you plenty of ideas!

---
Like what you're seeing? Check out Musicarta Patreon - a new way to learn!

THE MUSICARTA BEAT & RHYTHM WORKBOOK

At last! An effective approach to keyboard rhythm & syncopation skills. Learn more!
Also on Musicarta Patreon - only $5.00 a month!