Greensleeves Lesson Six
New Chords Variations
---
Inversions are different arrangements of the three notes of a chord – with a different note at the top. A particular inversion might sound better at a particular point in a piece, or just for variety.
Here is the lesson performance. It uses inversions, and only one totally new chord. Listen closely, hearing how the new inversions make the arrangement more interesting.

Here's the all-in-one teaching video. You might find it easier to learn using the split-up segment videos which follow.

Forming inversions - the first two bars

Here's the music you see in the video.

Inversions in written music

You can easily recognise inversions in written music as combinations of line and space notes.

Here are the diagrams you see in the teaching video.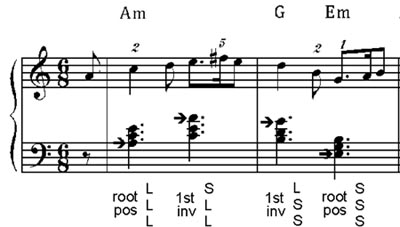 The arrowed notes in the chords above are the roots (name-notes).

Rehearse the first line chords

Here is the music with the chords you know so far.

The second line of music

The second line has one new chord - or rather, a different 'voicing' of one you already know.

The second half of the piece

The C chord remains the root position chord it always was, and the rest of the music is the same as in the first half.


A block chord performance practice version

Make sure you can find the chords as block chords on the first beat of the bar before you go on.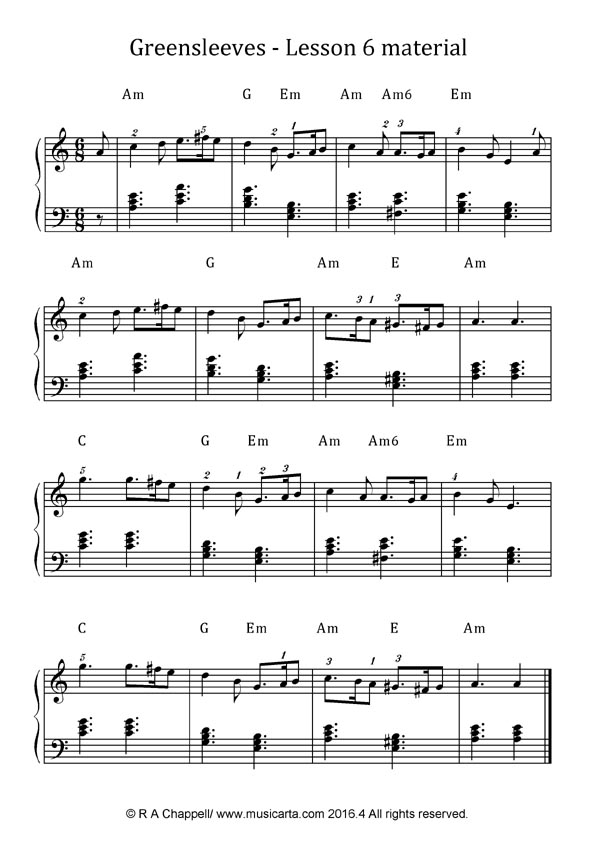 The lesson performance

'Unpack' the lesson performance carefully so you've got a secure overall picture in your mind's eye - you'll enjoy playing a lot more if you're sure of 'what comes next'.

The left hand rhythms

The performance starts hands-crossed, with the right hand playing the melody in the bass. The left hand plays the new chords and inversions off the beat.

Then the hands 'unravel' back into normal position and the chords play in the new rhythm.

Count along to the performance. Remember the maxim: "If you can say it, you can play it".
The scrolling MS video

Here's a scrolling-MS video of the actual lesson performance.
The MS is in your download folder, but your musical creativity will gain a lot more from playing an arrangement out of your own head from the 'lesson material' MS, above.

In the next lesson, you enrich the arrangement with a melody in the bass.

Thanks for learning with MUSICARTA! Come back soon!
THE MUSICARTA BEAT & RHYTHM WORKBOOK

At last! An effective approach to keyboard rhythm & syncopation skills. Learn more!
Also on Musicarta Patreon - only $5.00 a month!