Like what you're seeing? Check out Musicarta Patreon - a new way to learn!

DOWNLOAD PIANO LESSONS
Do you want to download piano lessons? If you want to learn modern keyboard styles, it might be your best way forward.
You can download piano lessons here at Musicarta, but first, a little ORIENTATION
The Musicarta Pyramids Variations

The Pyramids Variations is a digital download home-study pack comprising a 150-page PDF text file, 200-plus audio and MIDI files of the musical examples in there, a free 'virtual keyboard' MIDI file player and 26 videos showing the key musical examples in the PDF playing with simultaneous scrolling music manuscript.
This page describes the final stages of assembling the Pyramids Concert Performance from the building blocks you've mastered. To understand it, you should have browsed the first seven ample pages in the right hand series nav table.
The right hand column also contains links to other Musicarta home-study piano lessons you can download.

The PYRAMIDS VARIATIONS

With website audio and video support, the Pyramids Variations provides methodical support for your creative journey, offering pianists of all ages and stages fast-track guidance to a performance beyond expectations and a practical, step-by-step introduction to 'composing at the keyboard'.

<!..Row 3 RH..>
---
The Pyramids Variations, Lesson Eight
- The Pyramids Concert Performance -

The Pyramids Concert Performance is the culmination of the eight-lesson build-up in Part One of the Musicarta Pyramids Variations. Here is the Concert Performance. (You can watch it on YouTube , if you prefer.)
Apart from two chords in the middle section, this performance is based entirely on the Basic Music-making Position (BMP) you learnt in the first lesson: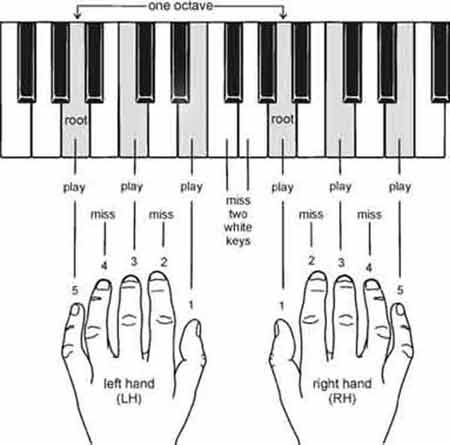 Let's recap the build-up.
In Lesson One, you play the sixteen-bar Pyramids chord sequence in the BMP:
Play the MMYT TPV Build-up playlist for a non-stop run-through.

In Lesson Two, you start turning your basic chord texture into music with an easy-but-nice 'left-hand-over pattern':
In Lesson Three, you add easy-to-find chord-tone melody notes:
In Lesson Four you take a break and stretch Pyramids out into a four-chord version:
In Lesson Five, it's back to work developing the melody with some right-under-your-fingers in-between notes:
In Lesson Six we grasp the nettle and learn some new material for a 'B section', beefing Pyramids up to a respectable 32-bar length:
In Lesson Seven we stretch the new material out to four-chord dimensions:
In Lesson Eight, you simply add a chords-only introduction (straight out of Lesson Four):
The Pyramids Variations Concert Performance
And you can leave it there, if you want! But that would be a shame!
Your build-up to the Concert Performance has in fact given you unique insight into how music comes out of the piano keyboard.
In fact, at this stage you would be capable of creating variations on the Concert Performance which would make your listeners think you were improvising or had written the music yourself.
Listen to this (re-)arrangement of the Pyramids building blocks.
You have come much, much further as a musician than copying this or that riff by this or that person!

Going on – the Variations
The build-up to the Concert Performance is only one part of the Pyramids Variations keyboard creativity programme. The build-up to is designed to inspire you by fast-tracking an impressive performance while teaching some music theory basics and getting the building blocks of real-time keyboard harmony comfortably under your fingers.
But the Concert Performance is only one possible version of the Pyramids chord sequence, as realised using the Basic Music-making Position and close variants. The rest of the Pyramids Variations workbook explores another twenty or so easily attainable Variations on the chord sequence.
Working through these variations models creative keyboard skills for you. You 'go through the motions' – literally! – as a prelude to creating your own Pyramids Variations or applying the many harmonic textures and melodic techniques you will have learnt to any song or chord sequence you choose.
Click through to the Variations page here for a peek. Or take the plunge and
The PYRAMIDS VARIATIONS

The Musicarta Pyramids Variations aims to exceed expectations by coaching beginners and re-starters to an impressive 'Concert Performance' in just eight lessons. After that, you learn a set of variations which model all the contemporary keyboard player's knowledge and skills.

<!..Row 3 RH..>
This is the end of the Pyramids-related content on this web page. Before going on to consider downloading piano lessons as a topic, may we invite you to...
STAY IN TOUCH!
At Musicarta, the Pyramids Variations is a living thing! Fresh, vibrant Pyramids Variations material is constantly finding its way onto the site - and into updates available to Pyramids Variations purchasers. Notice the invitation to
subscribe to the Musicarta RSS feed above - the painless way to keep up to date.
There is Pyramids Variations material you will want to see on the Mister Musicarta YouTube channel - use the Musicarta YouTube links page to find it quickly and easily!
Like what you're seeing? Check out Musicarta Patreon - a new way to learn!

THE MUSICARTA BEAT & RHYTHM WORKBOOK

At last! An effective approach to keyboard rhythm & syncopation skills. Learn more!
Also on Musicarta Patreon - only $5.00 a month!