Like what you're seeing? Check out Musicarta Patreon - a new way to learn!

Musicarta Pentatonic Workbook
"Just a Hustle"
Pentatonic Diaries 05-07-15

PD 05-07-15 in E minor

This Pentatonic Diary entry demonstrates how the minor pentatonic scale almost inevitably shades into twelve-bar music.

Implied chords

Nowhere are any chord tones offered, but the bass plays E (chord i), A (in all probability major IV), C (flat VI, probably dominant) and B (V or v).
(See Roman numerals if this shorthand puzzles you.)
Notice that, unlike some of the other twelve-bar Pentatonic Diaries, the right hand here plays only the five notes of the tonic (E minor) pentatonic scale.

Musical form

Sit down with a pencil and paper and work out the form (structure) of the piece.
Watch just the left hand. Count 1-2-3-4 fairly smartly and write down the note the left hand is playing on '1'. That will signify 'a bar of (whatever)'.
You will then have your 'chord structure'.
It's quite a heavily disguised twelve-bar, with a little filler at the end of the first chorus, a go-round ending repeating the last four bars, and a fade.
Here's a shorthand sketch with the repeating bars lined up underneath their originals.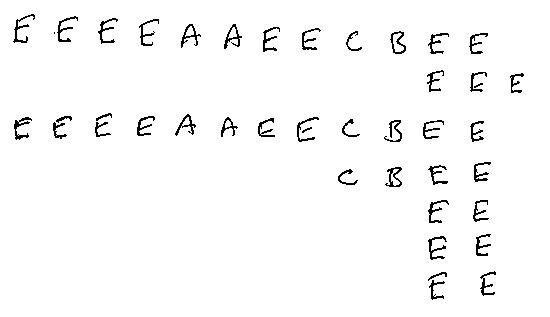 Five minutes working out the structure of a riff like this and internalizing is will save you hours of practice and get you to performance standard much more quickly.
Often, just the act of observing and writing down is sufficient to 'set' the riff in your muscle memory.
Listen to the riff as you read through the chord sequence to start if you can start 'hearing' the chord sequence off the page.

An improvisation (05-07 revisited)

Here is a spontaneous improvisation on PD 07-07-15 - totally unrehearsed and very raw.
The left hand drops the octave and plays only on 2-3-4 (mostly)

The right hand adds some chord tones above the melody. Turns out it is an A major, because it's a C sharp that drifts in. It was C7 - the B flat is in the left hand. The B chord remains uncommitted, but we know it's not major because it has the fourth above the root - B7/11
There's a further 'extension' to the chord sequence - the A/IV-chord section gets repeated, and the fade is lengthened.
One of the great boons of the pentatonic scales is how easy it is to be carried away upon them - to be entranced. There aren't many opportunities for modern minds to enjoy trance - it would be a shame not to use those that do exit!

Like what you're seeing? Check out Musicarta Patreon - a new way to learn!

Spread the love! Could someone you know enjoy Musicarta?

THE MUSICARTA BEAT & RHYTHM WORKBOOK

At last! An effective approach to keyboard rhythm & syncopation skills. Learn more!
Also on Musicarta Patreon - only $5.00 a month!