Like what you're seeing? Check out Musicarta Patreon - a new way to learn!

The Musicarta Pentatonics Workbook


Popular Pentatonic Music




Major pentatonic - pop/rock
One of the attractive properties of the pentatonic scale is that it harmonises so well with itself. The simplified five-tone pentatonic scale doesn't use the fourth or seventh of the major scale – both of which are a semitone away from another scale degree, so potentially more dissonant..
As a result, the pentatonic scales are excellent for improvising ('jamming'), as none of the scale-tones sound too objectionable played against any other.
Mountain Jam

Several rock bands have exploited this to the full, the Grateful Dead and the Allman Brothers particularly.
The Allman Brothers regularly played long improvisations on a pentatonic tune popularised by folk singer Donovan as 'Mountain Song'. They called it 'Mountain Jam' and a recorded version appeared on their album 'Eat a Peach'.
The Allman Brothers jam in E, and Donovan's recording is in A. This keyboard version is in all-white-key C pentatonic major. The middle section is from the Allman Brothers' version.
Write out a pentatonic shorthand version to transpose, or transpose the download MIDI file on MidiPiano and try playing along with Allman Brothers or Donovan YouTube performances.
  YouTube Mountain Song/Jam performances
Allman Brothers: https://www.youtube.com/watch?v=qNuNz2idDtY
(Note that some of the Allman Brothers version solos move into the minor.)

Donovan: https://www.youtube.com/watch?v=lkLp9d7HKuA
Katie Melua - Nine Million Bicycles

The first strain of Katie Melua's Nine Million Bicycles in Beijing is pure C major pentatonic.
Use the C pentatonic keyboard diagram and work out how to play it. The tune starts:


Here's a link to the official YouTube video:
https://www.youtube.com/watch?v=eHQG6-DojVw
Jazz-funk
Major - Stevie Wonder

The manic Stevie Wonder riff from Sir Duke (Songs in the Key of Life) at 1:04 on this recording:
https://www.youtube.com/watch?v=s6fPN5aQVDI
This riff is in B major pentatonic (four black keys) and uses the chromatic sharp 2 as well.
It starts:
T-T-3-2-2-6-5-5-6-T-2-#2-3-5-6-T-2-#2-3

As a keyboardist, you're entitled to use your 'Transpose' function for this one. Take the keyboard down a semitone and play in C.
Minor - The Crusaders

Two pieces by the Crusaders – Chain Reaction and Stomp and Buck Dance are in B flat minor pentatonic. That's four black keys on the keyboard, but if your keyboard has a 'Transpose' function, you can set it down two semitones and play along in C minor (only two black keys).
Until the guitar break at 2m30s, the themes on Chain Reaction are pure diatonic (five-note) minor.
Chain Reaction: https://www.youtube.com/watch?v=gV28lBjo4TU
Stomp and Buck Dance: Use this link.
Novelty
This snatch of the old American novelty song Shortenin' Bread got a new lease of life as the theme tune for the TV series Two And A Half Men.
This old playground jibing chant is pentatonic, too. The major pentatonic scale tones are 5, 3 and 6 – here in A and C.
Major - folk

Folk music from all over the world abounds with pentatonic tunes. Here are two from the British Isles.

Skye Boat Song

The Skye Boat Song - theme song for the TV series 'Outlander' - is pure five-note G major pentatonic. Here's a lead sheet version.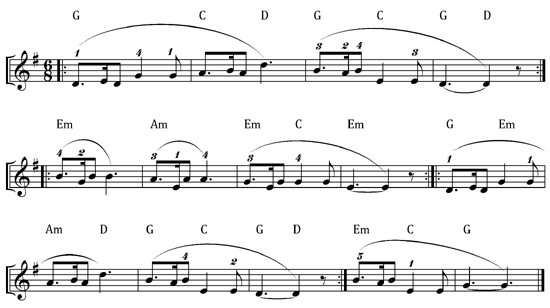 You can learn a more developed version with the Musicarta Traditional Melodies Songbook.

Amazing Grace

The famous American hymn, in C then in E flat.

See the full MS in the Musicarta Traditional Melodies Songbook.
"One other note"

The major pentatonic scale tunes are often first choice when it comes to melody-writing – making work with the pentatonic scales invaluable for playing by ear.
Many tunes are almost pure pentatonic, with just the occasional added note - usually much out-numbered.
Here are two examples.
Down By The Salley Gardens

The Irish tune used in this song is The Maids Of Mourne Shore'. The single non-pentatonic note is arrowed.

You can learn the full version with the Musicarta Traditional Melodies Songbook.
Camptown Races

Another tune with only two non-pentatonic tones.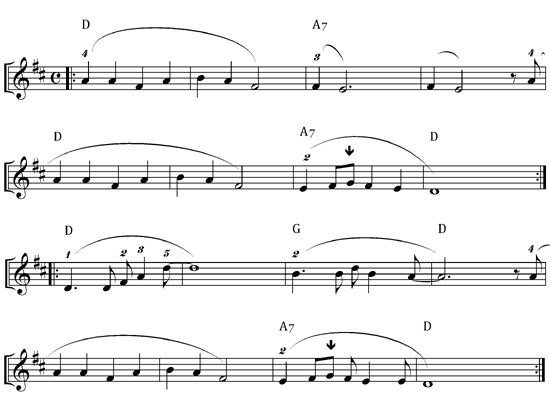 Classical
'Morning', from Peer Gynt

'Morning', from Edvard Grieg's Peer Gynt suite.
This rendering plays the theme in A and D. The theme starts 5, 3, 2, T.
If you learn it in E using the keyboard below and starting 5, 3, 2, T, you can play along with the first bars of any recording. Here's an option: https://www.youtube.com/watch?v=-rh8gMvzPw0
---
Like what you're seeing? Check out Musicarta Patreon - a new way to learn!

THE MUSICARTA BEAT & RHYTHM WORKBOOK

At last! An effective approach to keyboard rhythm & syncopation skills. Learn more!
Also on Musicarta Patreon - only $5.00 a month!