Musicarta is streaming on Twitch TV! Bookmark keyboardcomposing and check the schedule for your local times!
Musicarta Pentatonic Workbook
Simple Two-part Playing
Pentatonic Diaries 28-07-15
Two-part piano playing – where the hands play different material independently – is a benchmark achievement in mainstream piano teaching, and there is no reason why pentatonic material should not be used to develop the same skills.
Indeed, most good pop music and jazz is 'in parts' like this, with an independent bass line combining interestingly with the tune or improvisation it supports.
PD 28-07-15 is the first in a developmental series of two-part pentatonic riffs here in the Musicarta Pentatonics Workbook.       
PD 28-07-15 in D and E minors
This simple pentatonic riff uses only three pentatonic tones in each hand: T, m3 and m7 in the right and T, 5 and m7 in the left.
Watch the MidiPiano riff performance here. The full MS is in the workbook.
Build-up in D minor

All stages of the build-up are in the next single MidiPiano video performance.

Find the notes in D using this little study.
Start with RH3 and LH2 on tonic D and the notes will be right under your fingers.

Pay close attention to the pentatonic scale-tone shorthand – T, m3, m7 and so on. Knowing these tones 'by name' is what in the end allows you to create freely using the pentatonic scales.
Start the build-up of syncopation by practicing a 'straight', on-the-beat version of the riff.

Then bring the third right hand note in the bar forward ('anticipate the beat').

Finally, push the second left hand note back a quaver.

Now there is nothing on beat 3 – indicated (3) in the counting between the staves.
At the end of the second line, you play just the tonics (D) in both hands on 1 (2) &.
Transposing
For line 3 of the music – the material in E minor, a whole tone up – you simply put your RH3 and LH2 fingers on tonic E one key to the right and play exactly the same  finger pattern.
The MidiPiano performance video takes you through the whole build-up in E minor. Skip as much of it as you can!

Like D minor pentatonic, E minor pentatonic is an all-white key scale, so you have no black keys to worry about.
To finish the riff, you move back to D and replay the second line of the music.
PD 28-07-15 in C and D minors
To play the whole riff a whole tone lower – in C and D pentatonic minors – you have to know your C minor pentatonic scale, which has two black keys, Eë and Bë.
Study the C minor pentatonic keyboard diagram.

With RH3 on C, you have to play well up (towards the back of) the key to get your RH5 and RH2 on Eë and Bë.
Watch the performance video and try to play PD 28-07-15 in C and D minors. Watch out for a new fingering and transitions.

If you find you're not 'getting it', make up your own build-up exercises. Simplify the rhythm and repeat two-bar fragments until you're comfortable before going on.
Improvisation
Back in D minor, try playing the right hand over a continuous bass line, so: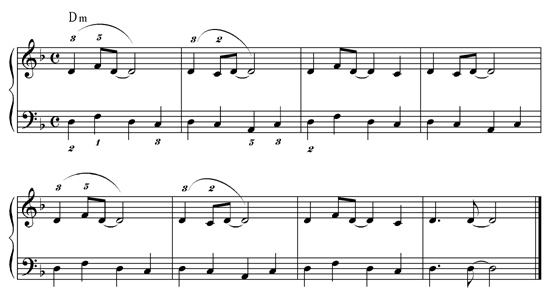 You may want to do some 'build-up'-type practising of your own.
Note: Never be afraid to prioritise 'just keeping going', no matter what kind of a mess you're making of the actual notes! Just keeping going is good in itself.
Next, let your right hand follow the bass down to A in the even bars, and put an occasional kick in the left hand.
Add an E minor section, and you have the full improvisation.

Further work
If you find this piece relatively easy, transpose it into other pairs of keys: G minor and A minor, A minor and B minor, E minor and Fí minor, and so on. Transposing practice is never wasted.
---
Musicarta is streaming on Twitch TV! Bookmark keyboardcomposing and check the schedule for your local times!
THE MUSICARTA BEAT & RHYTHM WORKBOOK

At last! An effective approach to keyboard rhythm & syncopation skills. Learn more!
Also on Musicarta Patreon - only $5.00 a month!