Like what you're seeing? Check out Musicarta Patreon - a new way to learn!

Musicarta Pentatonic Workbook
More Pentatonic 12-bar Riffs
Pentatonic Diaries 20-03-16 & 25-03-16
PD 20-03-16 is a unison pentatonic 12-bar riff in C which explores (chromatic) pentatonic scale-tones 4–#4–5 and  m7–M7–T.
PD 20-03-16

First line:


Notice that this riff is in 'straight' (even) quavers – no triplet feel.
Here is the 12-bar chord sequence in C: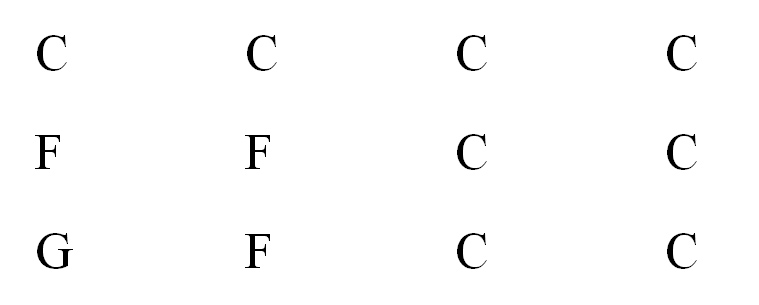 You need to know both chromatic pentatonic passing tones (í4/ë5 and í7/ë8) for all three scales. Use the reference keyboards.
The theme in pentatonic shorthand is:

T T m7 M7 T, 4 #4 5, 5 m7 M7 T T m7 M7 T
Notice how 4–#4–5 in one scale is m7–M7–T in another.
4–#4–5 in C (I) is m7–M7–T in G (V)
m7–M7–T in C (I) is 4–#4–5 in F (IV)
The riff is fast and difficult and would require a lot of work for a stage performance, including close attention to the fingering, but you will gain a lot from playing along with just the unison first chorus at practice speed by slowing down the MIDI in MidiPiano.
Practice performance
Learn the notes at half speed with this two-handed half-way house performance.
Adding the thirds
In select places in the riff, scale tonics C, F and G are played with thirds-above E, A and B.
The thirds are all major, but the bass line in the left hand is definitely minor pentatonic – although it never actually plays the minor third. This makes for an attractive tension. (Like all good things, this effect is easy to over-do.)
As always, it's the fingering that allows you to play the special-sounding thing. Practise like this: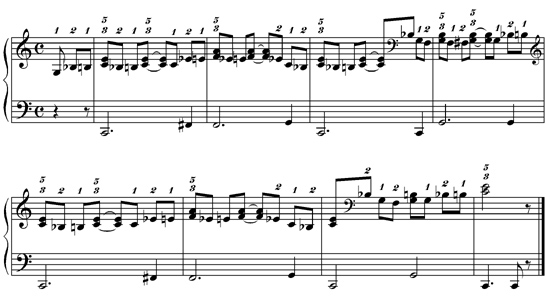 Watch the performance video to see how the fingering works.

Combining the elements – PD 25-03-16
PD 22-07-15 (the previous unison pentatonic 12-bar riff in the workbook)  explores mainly the diatonic pentatonic scale-tones, especially 4–m3–T and 5–m7–T.
PD 20-03-16 – the next riff in the series – explores the chromatic pentatonic scale-tone runs 4–í4–5 and m7–í7–T and introduces the thirds.
The last riff in this series – in G – combines both elements. Here's the theme:

Write yourself out a G 12-bar chord sequence.The material for bars 5 and 6 in C is a straight transposition.
PD 25-03-16 very obviously mixes major thirds with the minor pentatonic – even the m3 gets its own major third.
Use MidiPiano with the MIDI file in the download to isolate practice segments. You will probably end up playing your own version – which is as it should be!
Like what you're seeing? Check out Musicarta Patreon - a new way to learn!

Spread the love! Could someone you know grow with Musicarta's help?

THE MUSICARTA BEAT & RHYTHM WORKBOOK

At last! An effective approach to keyboard rhythm & syncopation skills. Learn more!
Also on Musicarta Patreon - only $5.00 a month!