Like what you're seeing? Check out Musicarta Patreon - a new way to learn!

CHORD PROGRESSIONS 5 PRESENTS
Musicarta KEY CHORDS Volume 1
Sample Lesson Four

Key Chords home page here.

This and the other sampler pages are here to give you an idea of how Key Chords will help you learn to play great riffs with just the four most used chords in popular music.

Click through to the other sample pages using the series navbar in the right hand column to decide whether Musicarta Key Chords Volume 1 is the keyboard creativity course for you!
The story so far...
Musicarta's old Chord Progressions pages have been upgraded and released as the Musicarta Key Chords Volume 1 digital home study download. These web pages now showcase the product.
This lesson shows you how the Musicarta Key Chords download introduces the first-choice minor chord, the submediant or vi ('Six') chord – sometimes called the 'relative minor' – and the great riffs you can play once it's in your chord vocabulary.

vi ('Six') - the relative minor chord

'Six' is a minor chord built on the sixth degree of the (major) scale of 'the key you're in'.


'Six' is easy to find - there's only one note difference. Pick any three chord tones from the top keyboard and follow the voice movement lines down to find the closest inversion of vi.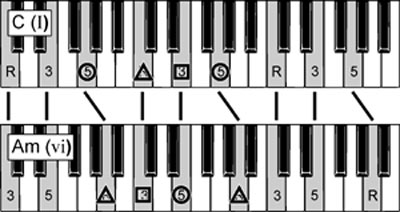 Then you work methodically through closest inversion sets of I-vi-IV-V.

I-vi-IV-V really is practically music already. Not only is it the rock'n'roll staple:

(...still plenty of mileage in that!) - but with a little tweak, it's the source code for plenty of modern hits. Listen to these...

Hits that use only I, IV, V and vi

Aicha (Cheb Khaled)




(vi-IV-I-V in B flat)


Vida La Vida (Cold Play)




(IV-V-I-vi in A flat)
If God Was One Of Us (Joan Osborne)



(vi-IV-I-V in A)


Time After Time (chorus) (Cyndi Lauper)



(V-vi-IV-V-I in C)
21 Guns (Green Day)




(vi-IV-I-V in F)




---




(room for plenty more!)

Key Chords has its own four-chord module riffs, custom-designed to rehearse all the harmonies you can now play.

Want to play like that?

The noticeable thing about that - as a riff - is the patterning in the right hand. You won't normally find music like this written out, anywhere - and if you do, it's just confusing! The right hand has essentially split itself in two - the melody note at the top with its own rhythm section 'flapping' underneath.

So we turn to MidiPiano, and play the MIDI file (in the download). Here's just the first chords, slowed down so you can see what's really going on:

Note: The video quality is much better played off your own desktop - but you can still see at second hand how the right hand 'waggles'. It's something to work towards - and Key Chords offers three 'stepping stone' approximations for this challenging right hand technique.
By now, you'll have seen plenty of chord charts. Here's the sequence for the Key Chords piano riff above:
By now, you will have noticed circles, squares and triangles on the MS and illustrations. Musicarta uses these symbols to indicate the three possible inversions of a triad.


This convention is a lot more intuitive than wordy 'root position', 'first inversion' and 'second inversion' names. Experience shows that it helps learners spot and play inversions with ease, a lot more quickly.
The convention is also used in the Musicarta Keyboard Chord Generator (free download link).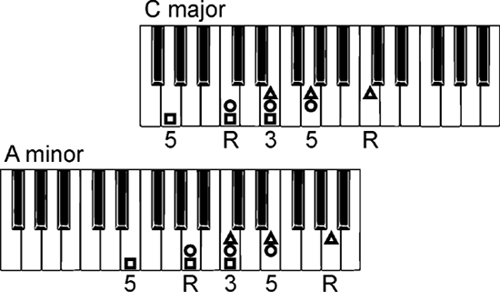 Chords I and vi (One and Six) make a powerful pair of chords just on their own. Here's a spin-off riff which plays around with I and vi in three keys. (Original on Mister Musicarta YouTube.)

(As it says, that's a Key Chords 'Diary' entry - the Key Chords project (like the Canon Project and Pyramids) will continue to develop, with new material for you to exercise your skills on.)
You'll notice that the video helps you find I and vi in three keys. You can't play in easy all-white-key C for ever - none of the three sample vi-IV-I-V YouTube hits linked above are in C. Sooner or later, you have to find the four Volume One key chords in other keys - which is the subject of the next (and last) sample lesson.
Click through when you're ready, but before you go, here's another treatment of the four Volume One key chords, this time starting from vi (A minor).

---
| | | |
| --- | --- | --- |
| Watch these Key Chords videos on Mister Musicarta YouTube: (More in RH column.) | | |
Like what you're seeing? Check out Musicarta Patreon - a new way to learn!

THE MUSICARTA BEAT & RHYTHM WORKBOOK

At last! An effective approach to keyboard rhythm & syncopation skills. Learn more!
Also on Musicarta Patreon - only $5.00 a month!