Musicarta ~ SCALE CITY ~ Patreon
Major Scales ~ One octave,
contrary motion, C to E

This page will help you master the contrary motion one-octave major scales in the sharp keys G to E (2H/SFG1), using the x5/x8 scale practice patterns.

You will already have worked through Contrary Motion introductory page in C.  The same fingering works for the sharp keys G to E, which you will practice on this page.
Use the series nav to dot around the series as you wish.

The Scale Fingering Groups
Take a moment to look at the scale fingering group information - it will help you get an 'aerial view' of scale fingering, rather than trying to remember the fingering key by key.
The twelve two-handed major scales fall into four groups:
'2H/SFG1*': C and sharp keys to E (RH SFG1 + LH SFG2)
'2H/SFG2': Flat keys B flat to D flat (RH SFG3 + LH SFG4)
'2H/SFG3': 'Odd Men Out' catch-up - F (RH 4+4, LH SFG2) and B (RH SFG1 + LH 4+4). 

'2H/SFG4': the 'All-Blacks' (both hands SFG5) - D flat, F sharp (enh. G flat) and B majors.

*'2H/SFG' stands for "two-handed scale fingering group" - the
groups of two-handed scales with similar fingering.
NB: The diagram below - for reference - is for the single-handed SFGs, NOT the 2H/SFGs given above!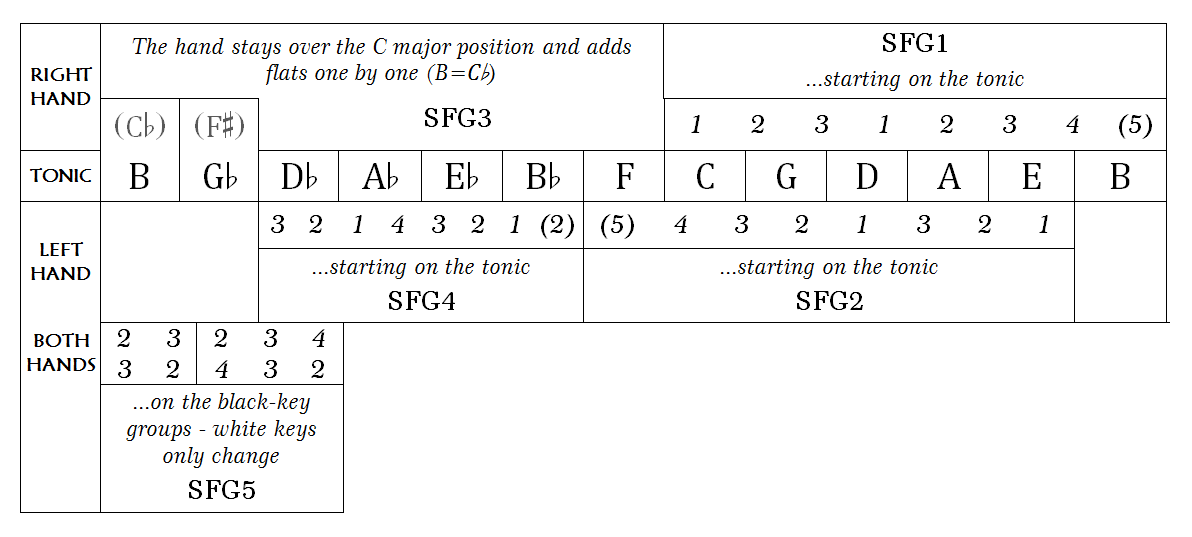 Single-handed Scale Fingering Groups
The x5/x8 ConMo patterns

In this series of pages, you play these x5/x8 contrary motion (ConMo) scale practice patterns (SPPs) in all keys.
| | |
| --- | --- |
| ConMo x5/x8 Pattern 1 | ConMo x5/x8 Pattern 2 |
| ConMo x5/x8 Pattern 3 | ConMo x5/x8 Pattern 4 |
Aim to be able to go to the keyboard and play the contrary motion scales in this two-handed SFG from these patterns 'just like that!
This is a slimmed-down set of patterns, so we're playing them in C major first.

Contrary motion 2H/SFG1 scales
Here's the build-up video for the 2H/SFG1 contrary motion scales C, G, D, A and E major.
Here are the scales one by one, for your practicing convenience.

C major
The fingering is symmetrical and no accidentals (black keys), so concentrate on getting familiar with the overall rhythm of the selection of patterns.
Your goal is to be able to 'just sit down and play' this collection of patterns in any key, as an easy way to become familiar all keys and build your 'practice miles'.


G major
Have a good look at the key-specific keyboard (KSK) before you start.
G major has one sharp - F sharp, a semitone below the tonic.


D major
Always bear in mind the logical build-up of the accidentals (black keys) as you move through the keys.
D major retains the F sharp from G major, and adds a new accidental - C sharp - just below the tonic.

A major
A major adds G sharp (again, the black key just below the tonic) to give three sharps - F sharp, C sharp and G sharp.

E major
E major adds D sharp. Notice how the black keys in this scale are symmetrical: the first two scale tones both above and below the tonic are black keys, with two white keys in the middle.


(Sharp key B major is reserved for 2H/SFG3 - the 'odd men out', with F major.)
Now go on to tackle the flat keys (2H/SFG2), or use the series nav below to select another page.

AND/OR...
As soon as you have learned the contrary motion major scale in these keys, you can go on to use the [abbreviated scale practice routine for this 2H/SFG]