Patreon MUSICARTA Premium
Major Scales ~ One octave,
two hands, G to E

This page will help you master one-octave major scales in the sharp keys, G to E.
You will already have worked through the 'x5/x8' scale practice patterns in C major. The same fingering works for the sharp keys G to E, which you will practice on this page.

The Scale Fingering Groups
Take a moment to look at the Scale Fingering Groups information - it will help you get an 'aerial view' of the scale fingering, rather than trying to remember the fingering key by key.
The twelve two-handed major scales fall into four groups:
'2H/SFG1*': C and sharp keys to E (RH SFG1 + LH SFG2)
'2H/SFG2': Flat keys B flat to D flat (RH SFG3 + LH SFG4)
'2H/SFG3': 'Odd Men Out' catch-up - F (RH SFG3 [4+4], LH SFG2) and B (RH SFG1 + LH SFG5 [4+4]). 

'2H/SFG4': the 'All-Blacks' (both hands SFG5) - D flat, F sharp (enh. G flat) and B majors.

*'2H/SFG' stands for "two-handed scale fingering groups" - the
groups of two-handed scales with similar fingering.

Here is the original (separate hands) Scale Fingering Group diagram for reference.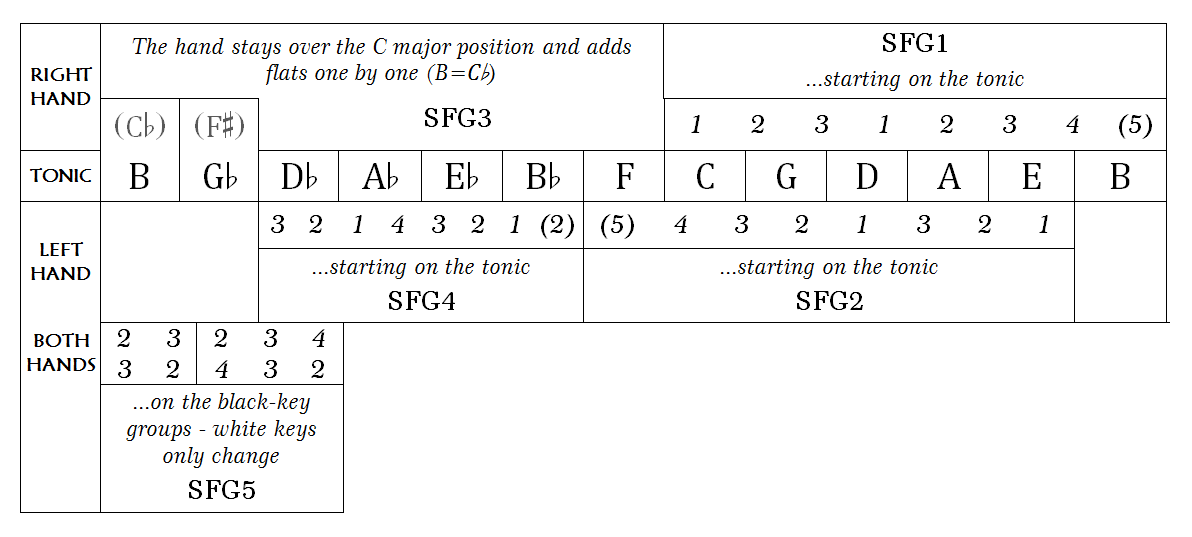 The x5/x8 patterns

On this page, you use this collection of x5/x8 patterns for all keys.
| | |
| --- | --- |
| x5/x8 Pattern 1 | x5/x8 Pattern 2 |
| x5/x8 Pattern 3 | x5/x8 Pattern 4 |
G major
Have a good look at the key-specific keyboard (KSK) before you start.
G major has one sharp - F sharp, a semitone below the tonic.


D major
Always bear in mind the logical build-up of the accidentals (black keys) as you move through the keys.
D major retains the F sharp from G major, and adds a new accidental - C sharp - just below the tonic.

A major
A major adds G sharp (again, the black key just below the tonic) to give three sharps - F sharp, C sharp and G sharp.

E major
E major adds D sharp. Notice how the scale is symmetrical: the first two scale tones above and below the tonic are black keys, with two white keys in the middle.


Now go on to tackle the flat keys. Or use the series nav to access any page in the series.