Musicarta is streaming on Twitch TV! Bookmark keyboardcomposing and check the schedule for your local times!
Musicarta Twelve-bar Piano Styles
Moving Pair - Module Three

In this module, we start adding some traditional 'funky' developments to the basic Moving Pair riff. Listen to the new riff version.
We call the first new element you hear a 'kick' in the right hand.
A 'kick' in the right hand
Here's the new right hand pattern in G.
MPR_M3_02
A bar of written-out G pattern with the kick looks like this: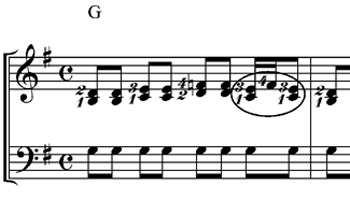 You can see that the kick (circled) is just:
one single new next-door note…
added on to the middle pair…
on the way down.
'Spelling it out' like this helps you 'fix' the new material. Sticking to the fingering you learned in Module Two will help also – it gives you a reasonably strong finger for the 'kick' note.
Build-up in G
Understand and play the difficult bit first, then build up around it. Here's a practice drill you can apply to any tricky new material.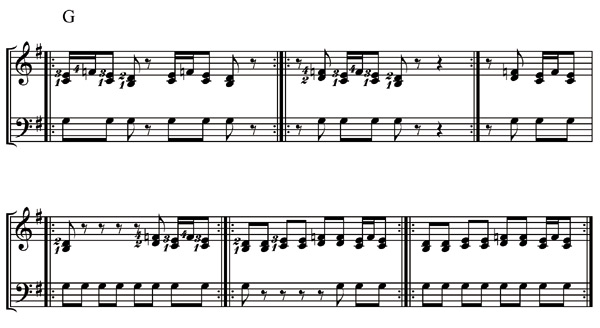 MPR_M3_03
You don't have to keep strict time or follow exactly. The music is only there to 'give you an idea' – you should rather work from the audio and the MIDI file playback on MidiPiano, looking at your fingers and listening hard.
It's much more efficient to isolate the difficult bit and practise just that than 'taking a run at it' time and again with things going wrong every time. Frustration is a big barrier to learning.
The right hand 'kick' in C and D
Next, you need to find the 'kick' note and practice the right hand kick in C and D. Remember, the kick is
a single next-door note…
added on to the middle pair…
on the way down.
Here are the audio and MIDI practice file numbers.
MPR_M3_04 (C position)
MPR_M3_05 (D position)
Remember, you can slow the MIDI performance down in MidiPiano – and if you're playing the MIDI file as audio in Windows Media Player. Also, try playing along and taking over as the audio performance files fades.
If you need to, repeat the build-up in C and D – it's the most efficient way of getting it into your fingers.

MPR_M3_06 (C position build-up)
MPR_M3_07 (D position build-up)
The right hand kick completed
Practise the riff with the new right hand kick over a simple bass right through the chord sequence:
MPR_M3_08
Incorporate what you know about 'where you jump from' in the Performance Troubleshooting module. You jump from the middle moving pair – right after the kick note – to the bottom pair of the new chord. Here is a kick-plus-jumps drill.
MPR_M3_09
This is tedious to play, but ultra-effective as practising! If you understand what this audio is about and you can play it, you know the riff!
Here's the module walk-through, to put it al in perspective.

Module summary
If you find the 'kick' too difficult, don't be dispirited. You can carry on building more variations on the Moving Pair without the kick for now. Often, 'resting' a difficult element allows it to slip into place on its own – and you find you can miraculously play it when you come back to it.
Improvising and composing at the keyboard doesn't happen in a vacuum. Every new thing is a bit like (or perhaps a lot like!) something that went before.
If you know one thing very well (like the Moving Pair riff), new combinations of its elements, with perhaps a different feel or in a different rhythm, will come together in your head – and, hopefully, out through your fingers.
You will have composed or improvised some new music!
The next module in the Moving Pair series continues moving you towards this goal by showing you more ways that the essentials of the riff can be recombined – and puts three more variations on this core twelve-bar material in your repertoire.
Musicarta is streaming on Twitch TV! Bookmark keyboardcomposing and check the schedule for your local times!
THE MUSICARTA BEAT & RHYTHM WORKBOOK

At last! An effective approach to keyboard rhythm & syncopation skills. Learn more!
Also on Musicarta Patreon - only $5.00 a month!